HOLY TOLEDO, BUCKAROO!!! IT'S THE RICKUBISCAM PAGE !!
(sometimes known as the "rick, don't touch that!" page.)
LAST UPDATE: 01/21/2017 PREVIOUS UPDATE: 01/09/2017
----- --LET'S SEE WHAT THAT RASCAL RICKUBIS IS UP TO!

------------------------------- -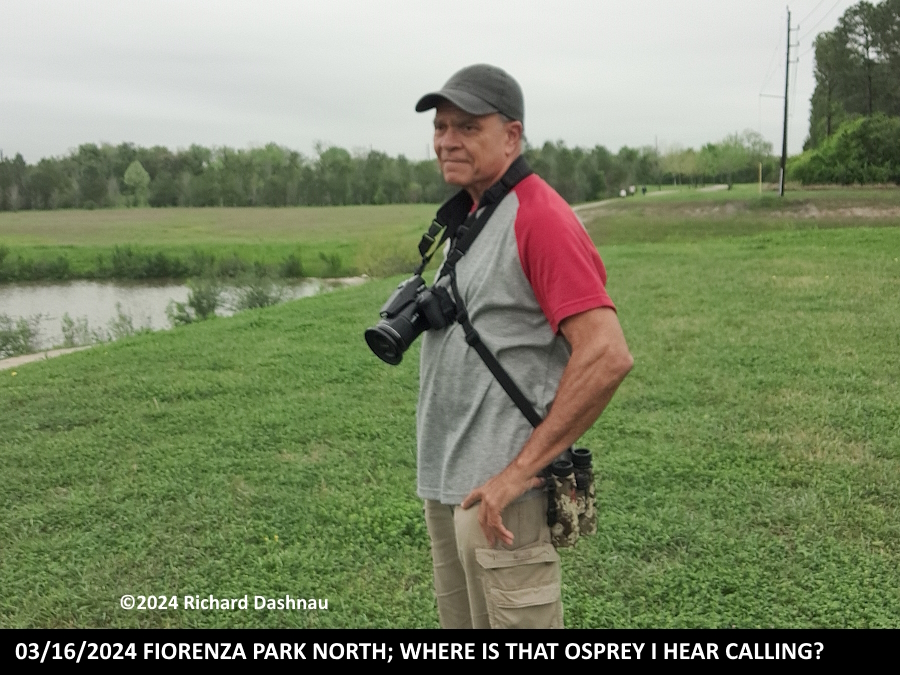 DOES THE CAPTION SAY "IT'S LIVE"? IF IT DOESN'T, IT ISN'T.

Usually, the newest material on my pages appears here first. But sometimes, it doesn't. I'll try this--here is a list of pages that have been recently updated (except this one--you can see that here). Visit them directly to see what
else is new. I'm still updating my pages--I'm just not always putting the newest material on

this

page. Lately I've been spending my usual "web page" time expanding the images on my old pages, so updates here haven't been as common.
When I started this domain, the only way to connect was via dial up--and slow dial up at first. Everything I posted then was configured so dial up users could download and see the pages. Now I'm upgrading what and when I can so the old
media looks better. hmns

Page name Last Update



Pied-Billed Grebe sinking 04/09/2017

Newly added 01/06/18




Spoonbill at Fiorenza 12/02/2017 pic

Newly added 01/03/18




Emu walking filmed at 120fps wmv

10/08/2017

Newly added 11/13/17




Black and Yellow Argiope bouncing web vid wmv

09/12/2010

Newly added 10/22/17




Minor repair of shelter with emus vid mp4

09/16/2017

Newly added 9/18/17




Minor repair of shelter with emus vid wmv

09/16/2017

Newly added 9/18/17




Solar Eclipse images through binocs vid

08/21/2017

Newly added 8/23/17




Solar Eclipse images through binocs

08/21/2017

Newly added 8/23/17




Solar Eclipse images through leaves

08/21/2017

Newly added 8/23/17




Shaking hands with a N. Clavipes

07/16/2017

Newly added 7/25/17




Walking a N. Clavipes on my hand

07/16/2017

Newly added 7/25/17




01/13/2018 and 01/20/2018 . Various species of the "tropical fish" known as Plecostomus have become established in Texas waters. They are considered invasive and
destructive. Since they have been living in these waters, it's reasonable to assume that they have survived winters here. However, over the last few weeks (specifically
from January 12 to January 20) we've had especially cold weather. During the first week there were about 4 days of temperatures around 30 degrees F. And during
the second week we had about 4 days near 20 degrees F. While I was visiting Archbishop Fiorenza Park on the 13th, I noticed many dead Plecostomus along the banks
of the lake. On the 20th, most of the carcasses were gone from where I'd seen them, but I did see Black Vultures eating a few. I assume that the cold weather killed them.
The pictures of the dead fish are from the 13th. I've taken a picture of my foot near some of the carcasses for scale (shoe size 11). The pictures of the vulture
are frame grabs from a short video clip. And the video is here.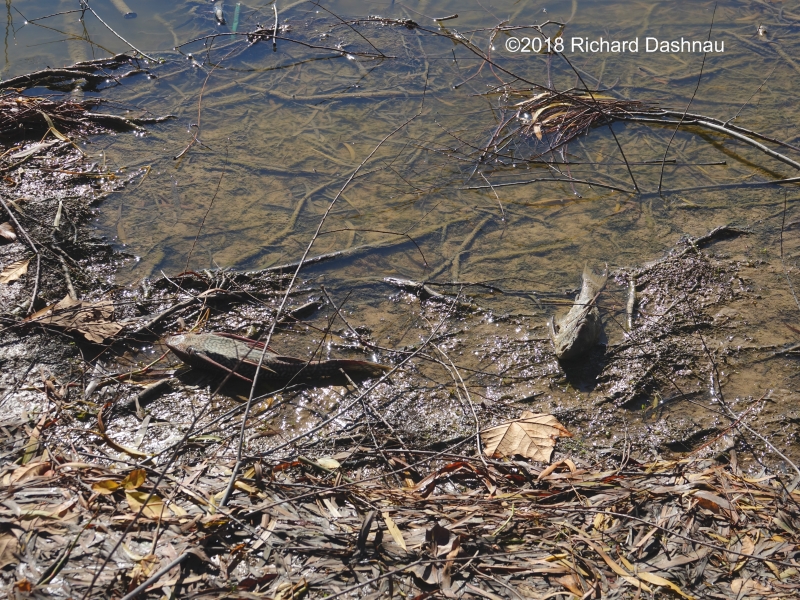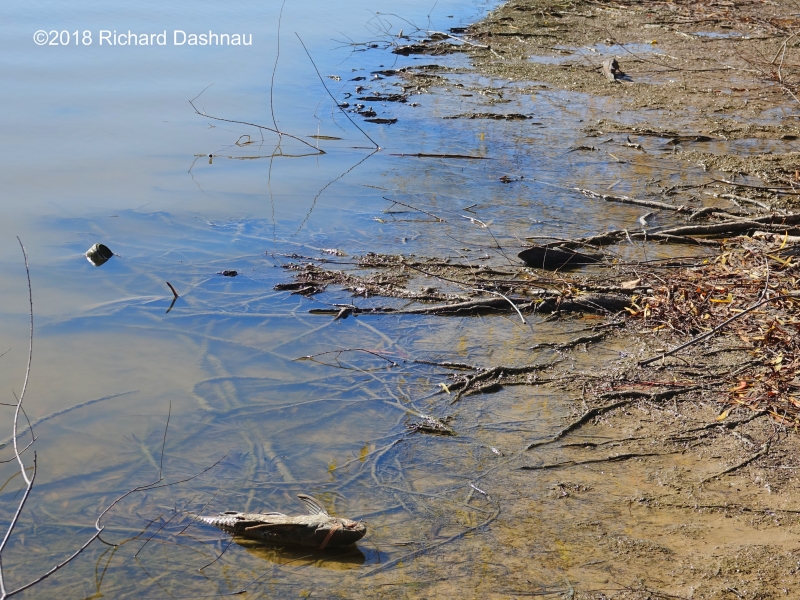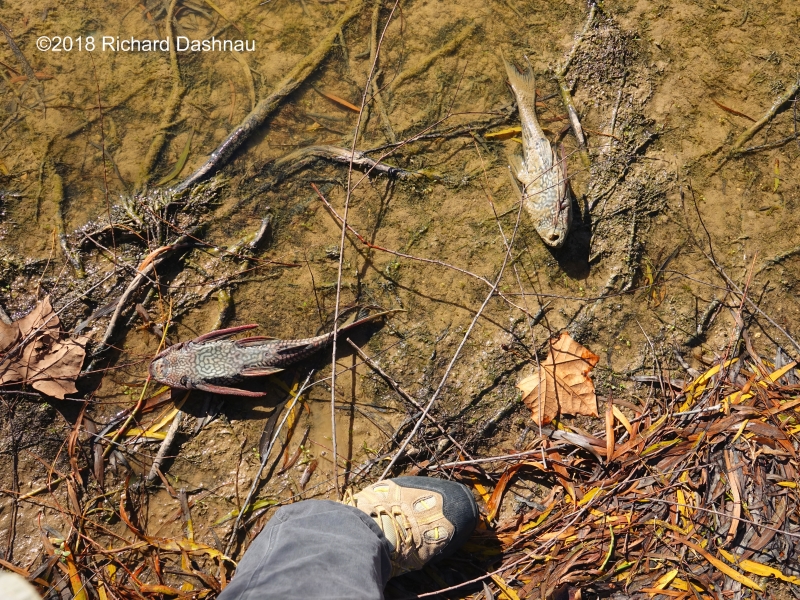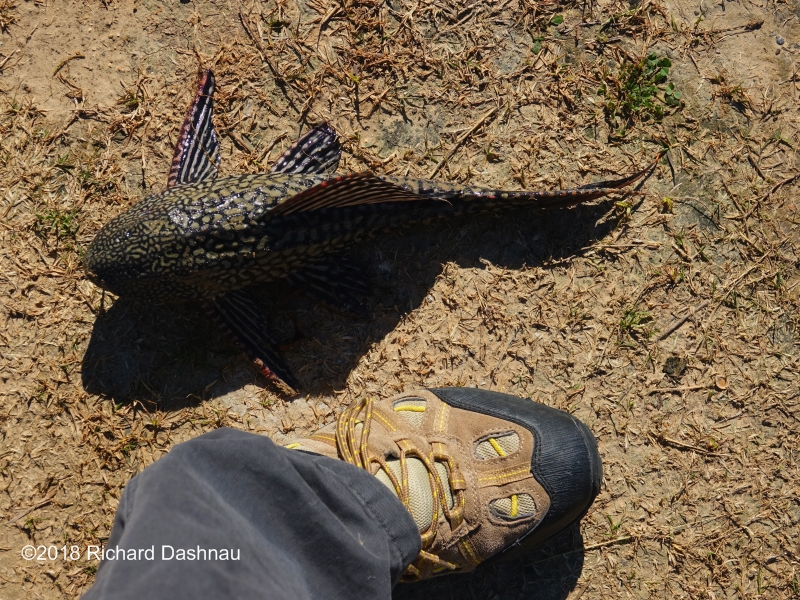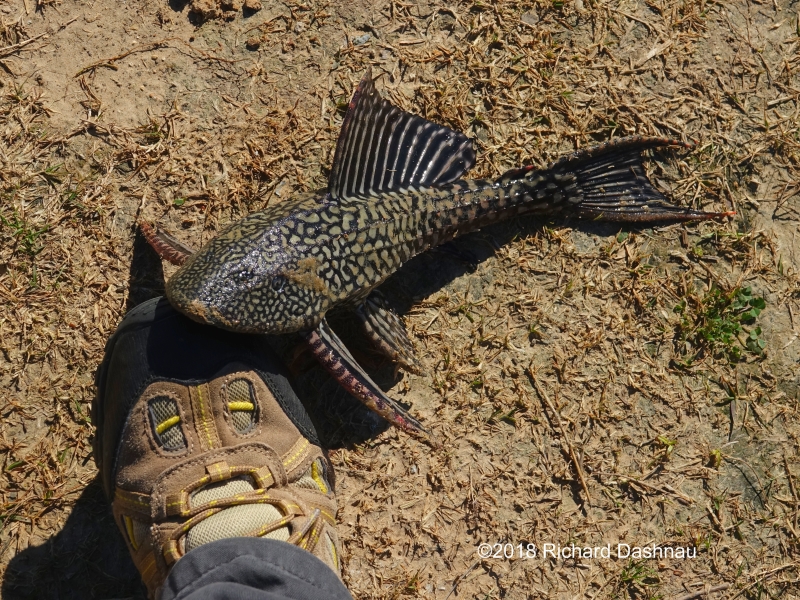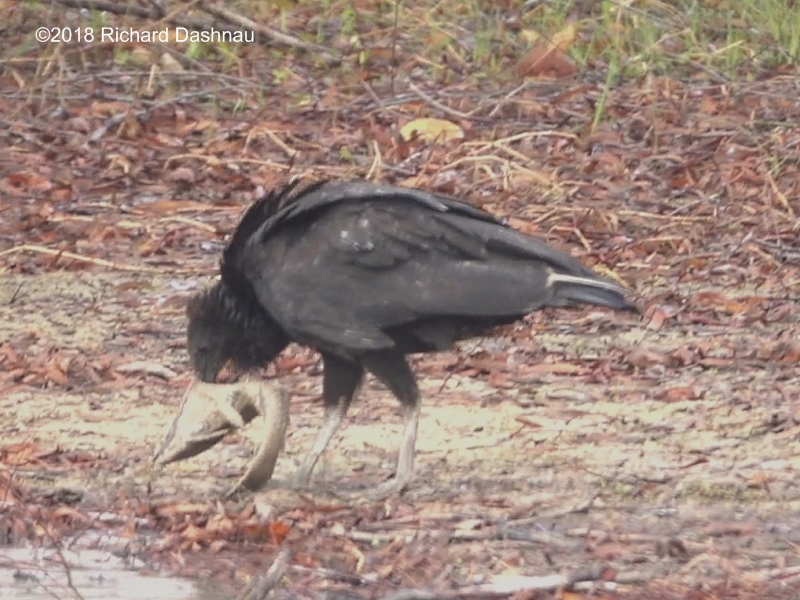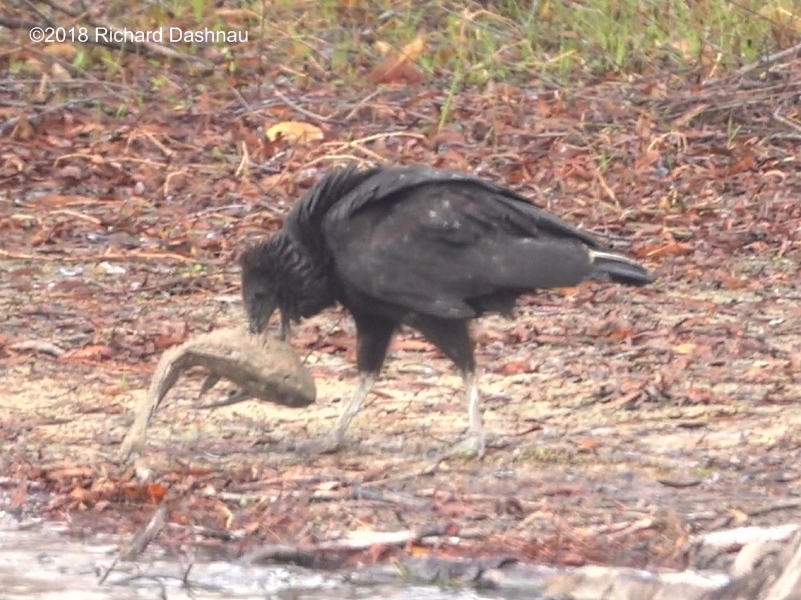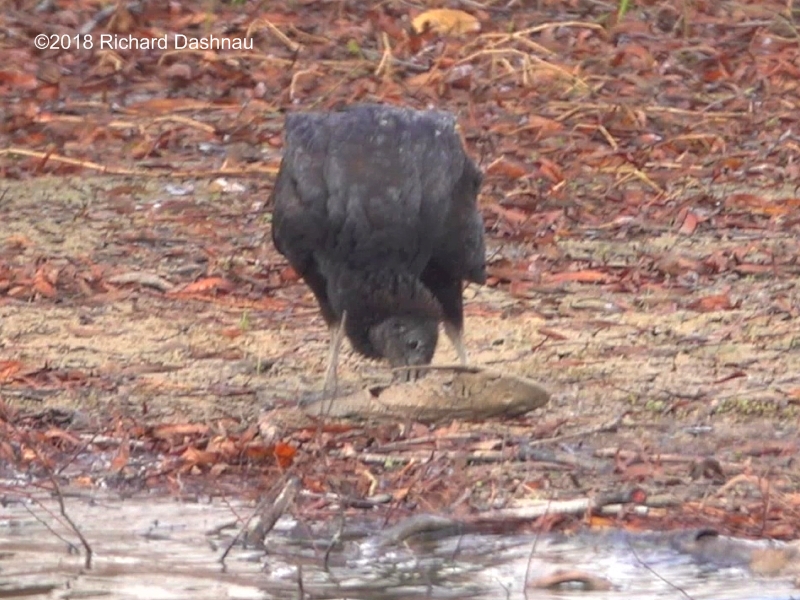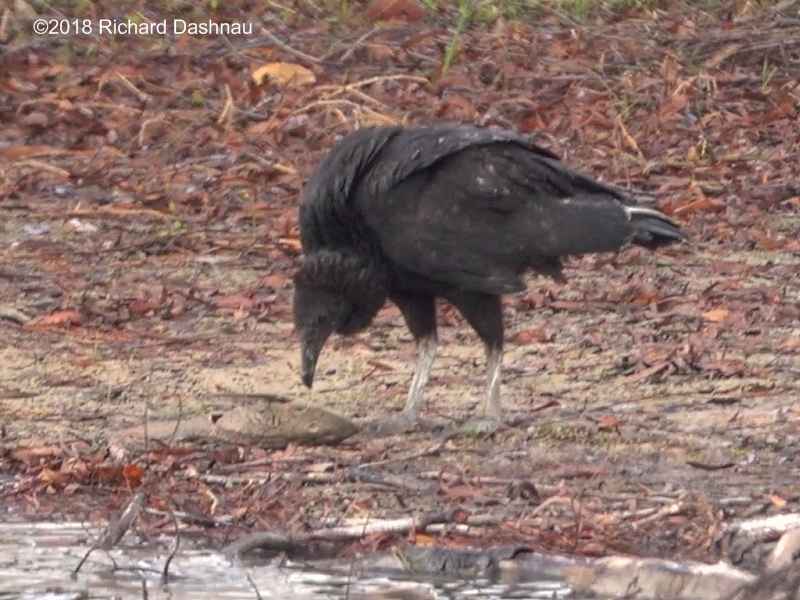 A FRIENDLY REMINDER: ALL IMAGES, VIDEOS, AND TEXT ON THIS PAGE, AND ALL MY PAGES ARE COPYRIGHTED MATERIAL AND MAY NOT BE USED ANYWHERE WITHOUT PERMISSION FROM ME.


I'VE USED MUSIC IN SOME OF MY VIDEO PRODUCTIONS AND CLIPS. IT HAS BEEN LICENSED FOR MY USE, ROYALTY-FREE. IF YOU'D LIKE TO PURCHASE LICENSED MUSIC--FROM A HUGE
STOCK OF AVAILABLE TYPES--FOR A VERY REASONABLE PRICE (HEY, EVEN I CAN AFFORD IT) THEN YOU CAN GO TO:
-------------------------------------------------------------


CLICK ON THE IMAGE, OR CLICK HERE TO GO THERE. I'VE BEEN BUYING MUSIC FROM THEM SINCE 2003.
To go back to my home page, click Welcome to Rickubis.com
DO NOT EVER APPROACH ALLIGATORS. THEY CAN BE EXTREMELY DANGEROUS IF THEY FEEL THREATENED, JUST LIKE ALMOST ANY ANIMAL. DON'T DISTURB ALLIGATORS AT THIS PARK, OR ANYWHERE ELSE.
A few comments about alligators.(2451kb)
Click this image

to see a flv video movie (625kb) of a series of eleven 11 x 14 posters I've made.
Click here to see pictures of some shirts I've designed advertising my website.
For the story of my new titanium/ceramic toy, click here to see how I've been recovering. I've come to think that these
pages are less about me, than what I'm writing about, but some people were concerned. So, this page will show how it went.
.Click here for the ----a chronicle of past rickubiscam images.
(doesn't that sound dramatic?)
Aside from the gallery, lower on this page, there is a short list of previous "events" that I've given special notice to with the RICKUBISCAM.
Subjects that I feel will fit the theme of one of my other pages will eventually be moved off of this one.
THIS ENTIRE PAGE SHOULD UPDATE EVERY 60 SECONDS. OF COURSE, IF THE CAMERA ISN'T LIVE, THEN IT DOESN'T REALLY MATTER,
DOES IT. (Page refresh changed to 60 minutes (3600sec.) 05/06/2001)
WHEN I AM ONLINE (AND THE CAMERA IS ON), THE CAMERA UPLOADS EVERY 60 SECONDS OR SO, SO RELOAD OR REFRESH THIS PAGE IF YOU
DON'T SEE A CHANGE (THIS MAY BE NECESSARY WITH SOME BROWSERS).
----------------------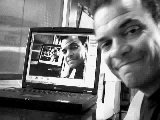 ---------------------------------------


RICKUBISCAM on the RICKUBISCAM on the RICKUBISCAM on the.... REPTILE GLASSES

Certain natural observations that first appeared on this page have been moved to my other pages. See the following links
for this information:

Here are my other Brazos Bend and/or critter pages:
---------------------------------------------------------------- OR, FOR OTHER ANIMALS:
Alligators at Brazos Bend State Park Introduction---------Critters at Brazos Bend State Park Page 1
Snakes-nonvenomous 1-------------------------------------------Critters at Brazos Bend State Park Page 3
Snakes-nonvenomous 2-------------------------------------------Insects, non-toxic
Snakes-nonvenomous 3-Snakes-nonvenomous 4---------------Spiders
Snakes-venomous--------------------------------------------------Mammals---OTTERS!
Birds-Waders--Birds-Raptors--Birds-Anhingas---------------Lizards!--Turtles!
Birds-Grebes--Birds-Other Birds--Birds-Herons

01/07/2018. One of

those

days, at Brazos Bend State Park. On Saturday, January 6, volunteer Chuck D. showed me that he'd gotten some great pictures of a juvenile Bald Eagle at 40 Acre Lake.
On Sunday morning the next day (01\07) , I was out at 40 Acre Lake (where I usually start anyway). I was near the Observation Tower, and watching the sky, and also looking and listening for
signs of disturbance from the many wading birds and waterfowl in the area. American Coots occasionally bickered out in the water and chased each other. Once, the coots sounded a bit different,
so I looked to my left (North) until I saw movement in the water near the coots. I wasted a second or two as I went through what

normally

moves out there. Anhinga? No. Cormorant? No. Diving
Coot? No. Grebe? No. Otter!? YES!! It was an OTTER!! I quickly brought the camera up and started shooting video. I tried not to move as the otter came closer. It swam to the edge of the floating hyacinth, then it dove.
It was about 10 yards from me when it went under. The pictures below are frame grabs from the video. And the video is here.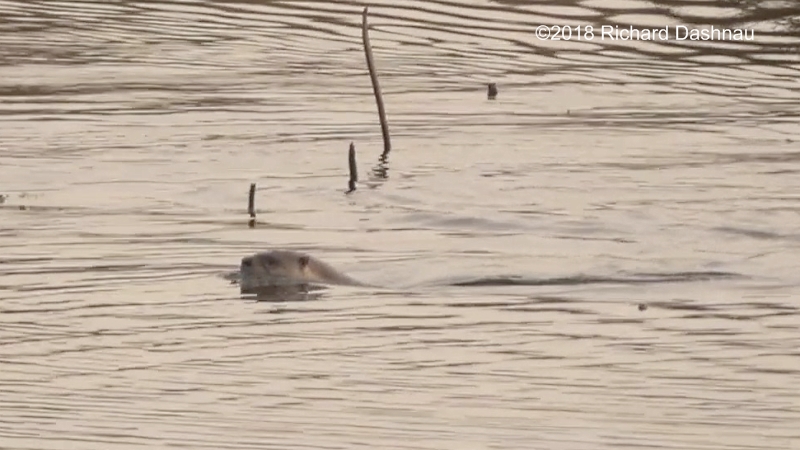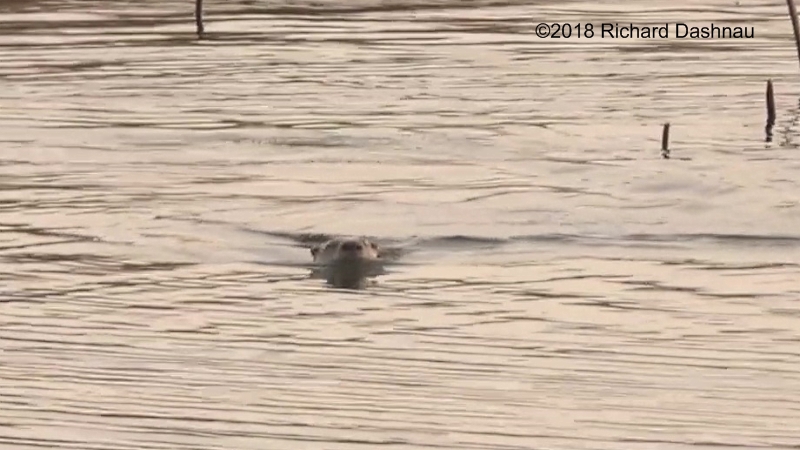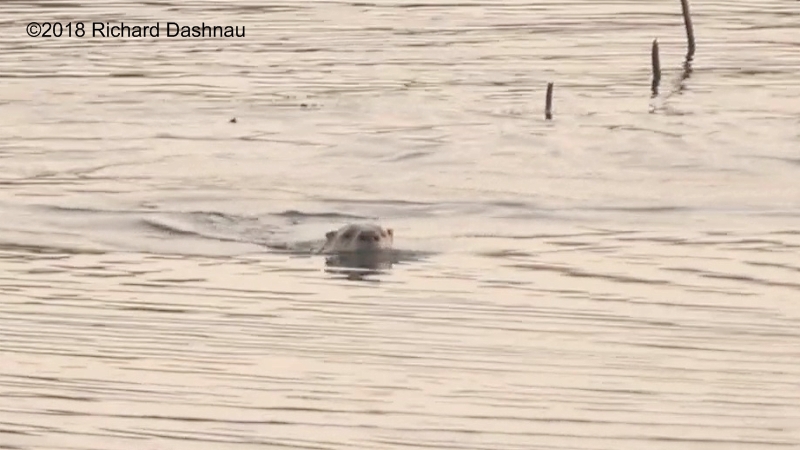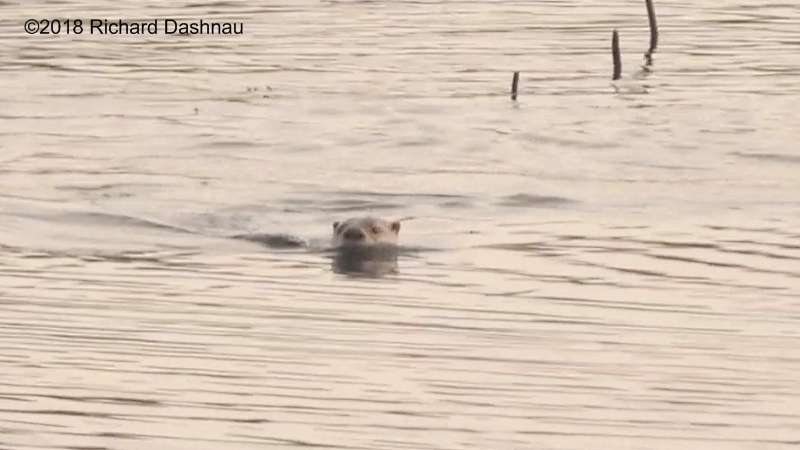 It seemed to me that it might want to cross the trail (probably close to the concrete around the culverts). So, following my own advice, I backed away from the tower about ten steps. This was to allow
room for the otter to cross. And...nothing else happened. I looked all around for a sign that the otter was moving. I looked behind me in case the otter passed me. I looked down and to the right (South)
in case the otter crossed and went into the lake leaving a wake. I spent a few more minutes looking back and forth. I didn't see the otter again. It might have crossed in front of me after that. But I could
have missed it; because I was distracted.
Because...when I was waiting for a sign of the otter I happened to look right again (South), but this time I looked *up*.
And the juvenile Bald Eagle was circling in the air above the lake. I caught some video of the eagle as it circled around (it was near the Southeast corner of the lake) and it made an aborted talon-strike at
the surface of the water, then landed in a tree. So, while I was watching that, the otter could have crossed to the East. What a choice! Should I watch for the otter to reappear...or for the eagle to move? I watched
the eagle, and it took off again, but moved away from me, then looped around and went West.
The images below are frame grabs from the video. The video does look a bit better. And that video is here.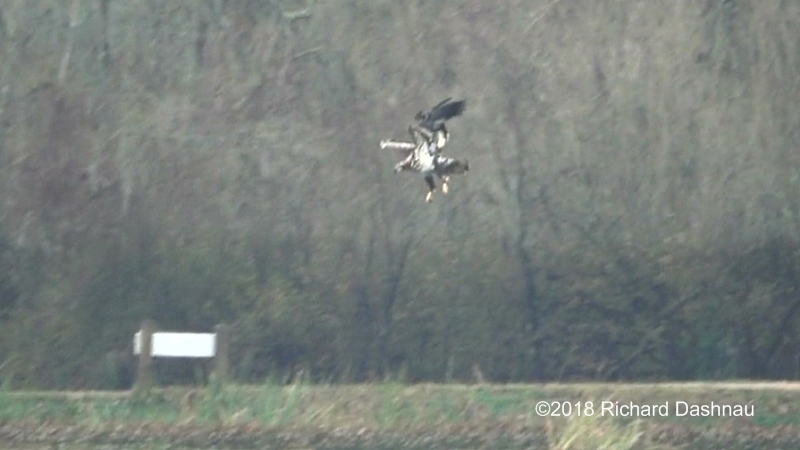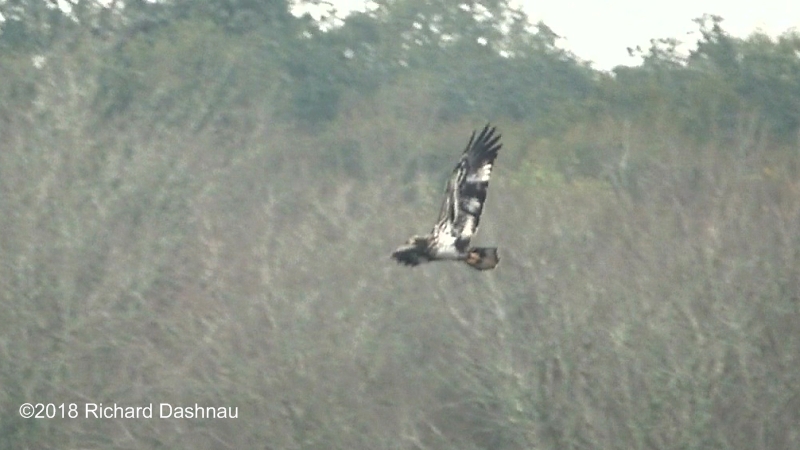 Those of us who have been able to see otters are often confounded by their ability to move quickly and with stealth. I found some information in this document:
North American River Otter Husbandry Notebook, 3rd Edition
Edited by Janice Reed-Smith 2008
link is here.
The aerobic dive limit for an otter (how long it can stay under holding its breath) is 50 seconds. (Page 27) But average dive time is 21 seconds ( page 28). Top speed of an
otter in water is 7 miles per hour. (That's about 10 feet per second) (page 28) If we cut that in half (considering we usually see otters relatively at ease) that's 5 feet per second.
In a 21 second dive, at 5 feet per second, an otter could move 105 feet (35 yards) or maybe as far as 210 feet (70 yards) if it's in a hurry.
There are some good online sources for collected information about otters. Some day I'll be able to examine all that's there. Here are two:
river otter alliance
otter specialist group

As for the young eagle. Sources on the TPWD website say that Bald Eagles lay eggs in December, and eggs incubate about 35 days, to hatch sometime in January. The chicks leave the nest in about 12 weeks,
but the parents still feed the young for another 4 to 6 weeks while they learn to hunt. So eagles hatched this season should still be in the nest (not flying around). The feather markings change as the young
eagle ages, with the prominent white head and tail and dark body appearing only in mature adults (about 5 years old). This one might be close to 2 years old. I'm guessing by comparing with my
Sibley's field guide and my National Geographic field guide--which show more white patches on the wings during 2nd year. I'm sure the birders out there can correct me if necessary.

12/10/2017. This winter has been a good one for otter sightings. Most of them seemed to be along the Spillway Trail. On December 10, I went out to the Spillway Trail
with the goal of seeing an otter. While I was there, Volunteer C. also showed up--with the same goal in mind. I moved towards the East end of the trail, near
a raised section we call "Otter Island", this is near the alligator nesting display.
C. stayed near the Spillway Bridge-since an otter had run under it a week or so before. He was about 300 yards from me (according to Google maps)
And so we waited for a few hours. (Image below left)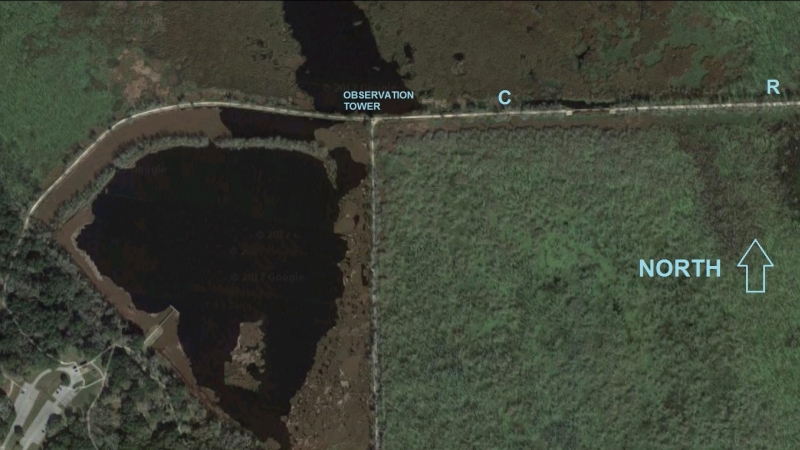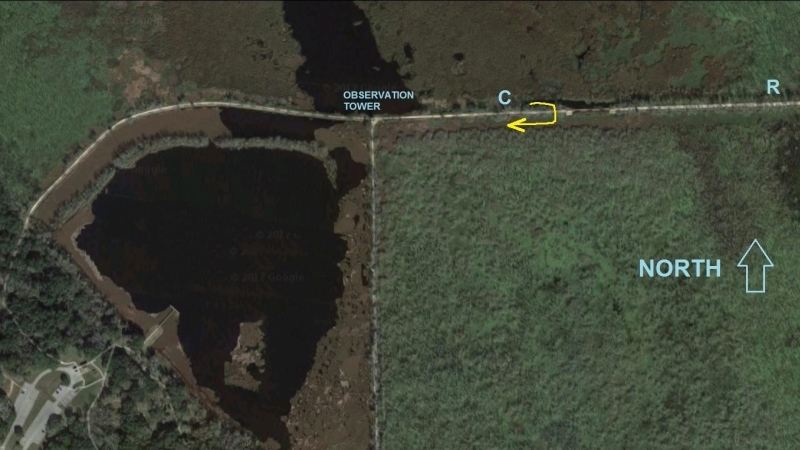 Around 10:00, I saw that C. had gone over the Spillway Bridge and a little way to the West of the bridge. I was still in my spot. C. seemed to be watching something,
so I focussed my binoculars on him. And that's when I saw the otter run RIGHT IN FRONT OF HIM. He got some good pictures then, but the otter was so close he had
trouble fitting it all in frame. (Image above right.)
After that, C. seemed to be following something, so I caught up with him. He had been following the otter, but stopped to take pictures of a Vermillion Flycatcher. We
continued West to the Observation Tower, since it seemed likely that the otter would cross into 40 Acre Lake. We just got to the Observation Tower...and I saw it
again! This time, it was about 150 yards South when it crossed the trail. We saw it go into 40 Acre lake and watched it swim West, where we lost it when it submerged.
(Image below left, below center)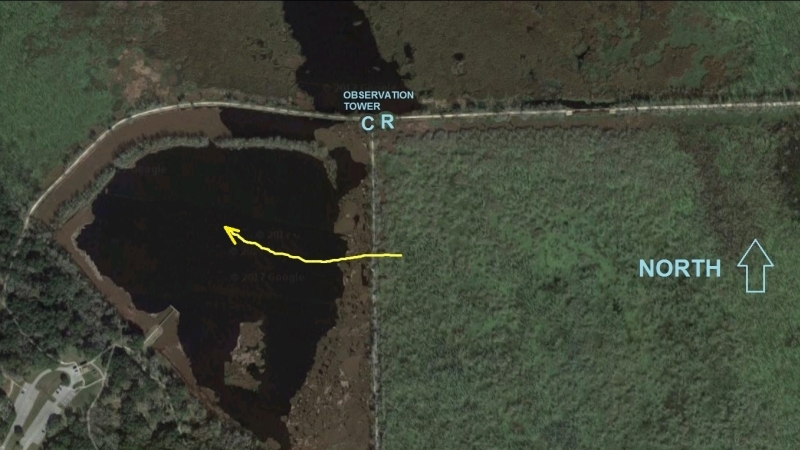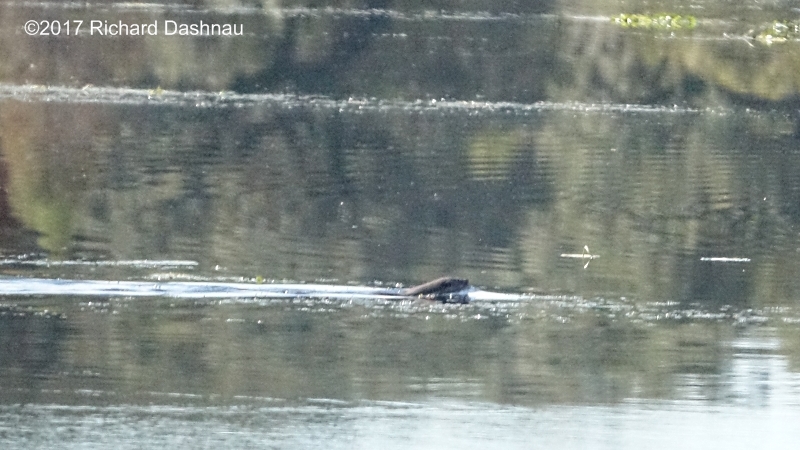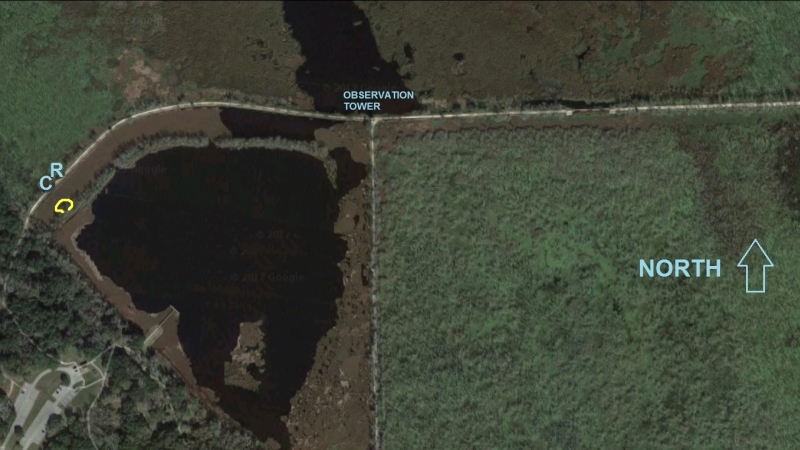 We continued West along the 40 Acre lake trail, where we stopped to look for the otter again. No luck. We spoke to a visitor who was fishing, then continued West, and then I saw the otter again, on
one of the islands--near the West end. ( Image above right.) We watched and tried to get more images until it submerged and we lost it again. The otter stayed was too far away and in too much cover for me
to get a good picture, so I filmed some video. I've edited that into a clip that can be seen be following this link. The images below are frames from the video.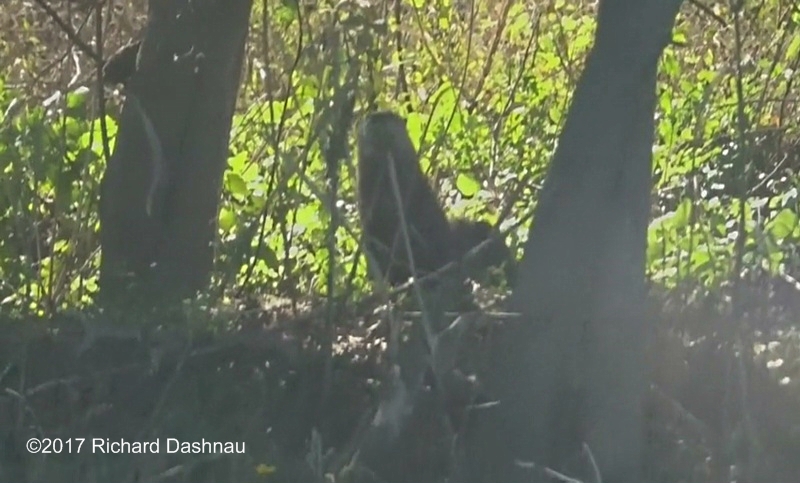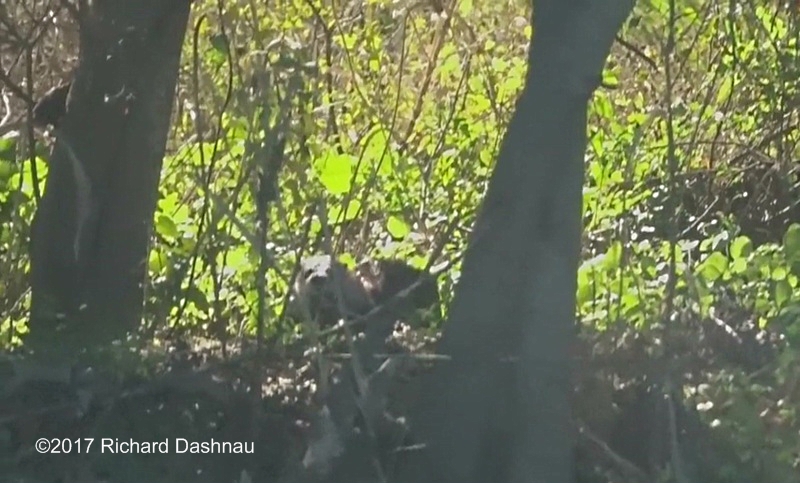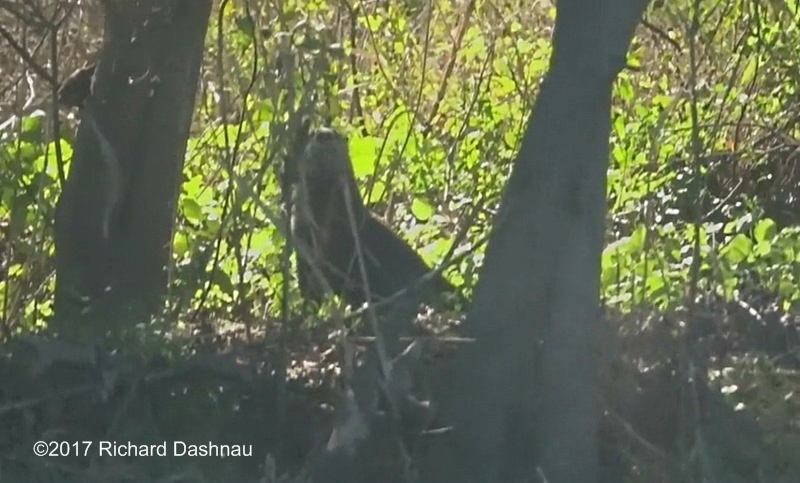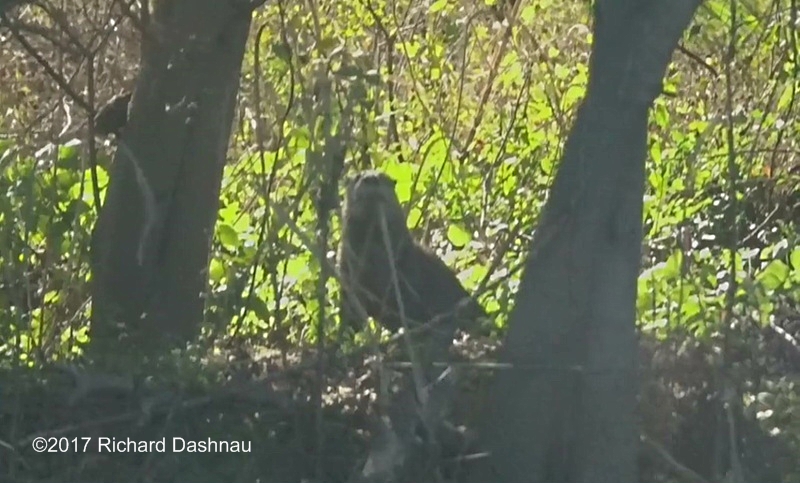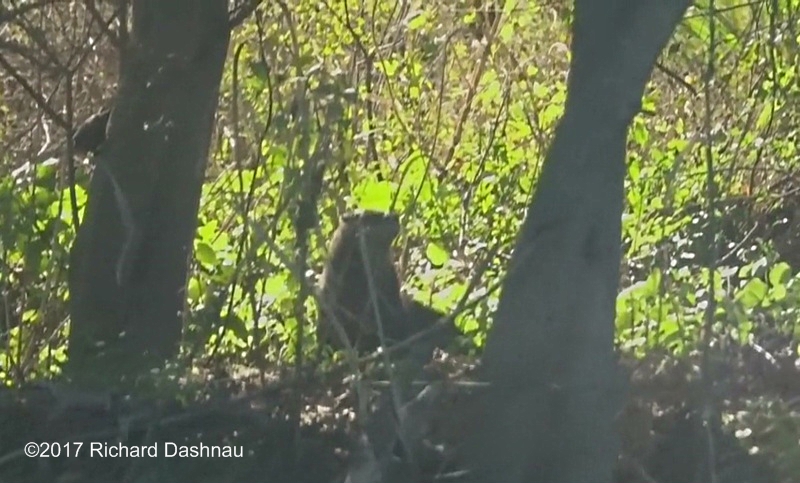 09/04/2017. About a week after Hurricane Harvey left, I was on a bridge over one of the bayous when I noticed a Softshell Turtle
swimming below me. I was still coping with the damage done to our area, and the sight of this beautiful turtle swimming in a bayou water
which had been about 20 feet higher a week before....really helped calm my spirit. I took a few pictures, and a video clip. I used my photo to
identify the turtle. It is a Spiny Softshell turtle (

Apalone spiniferus

), and after a bit more research, I discovered that there a number of different species of
Softshell turtles in Texas! According to two sources I have--Audubon Society Field Guide to North American Reptiles and Amphibians p.486 1992 and
Peterson Field Guide to Reptiles and Amphibians of Eastern and Central North America p.80 2nd ed. 1975--I believe this could be a Texas Softshell Turtle
(Trionyx spiniferus emoryi Note 11/20/2017: since I first posted this-11/18/2017-I have discovered that the taxonomic name for this turtle was changed
in 1987. This has been changed to

Apalone spiniferus emoryi

). But it seeems to be out of its range--but I'm not too good at "keying-out" critters.
(I've found a turtle identification key for Texas turtles on the TPWD website! Here's the link: https://tpwd.texas.gov/publications/pwdpubs/media/pwd_lf_w7000_1667.pdf )
The video clip can be seen be following this link.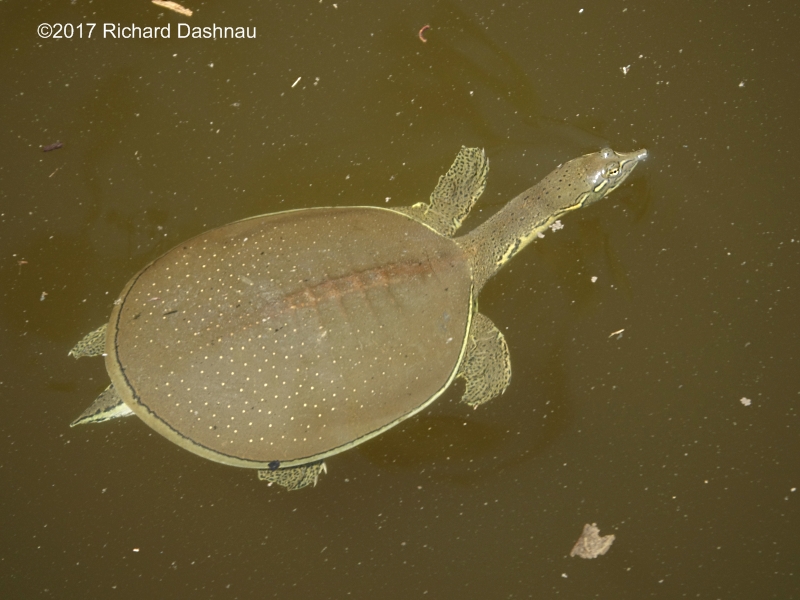 04/08/2012---Easter Sunday at BBSP gets very busy. This year, I had time to put a camera on my bicycle handlebars and do a quick ride on the Elm Lake Trail before it got busy. I was experimenting with doing "virtual" trail tours of the park.
I'm not sure if this works or not, but here is an edited version of the footage I filmed. A surprise unique to the park happens near the 6:47 mark. Links to the video are here (files are about 200mb): Elm Lake trail mp4 Elm Lake trail wmv.

11/06/2011---Piper the Pup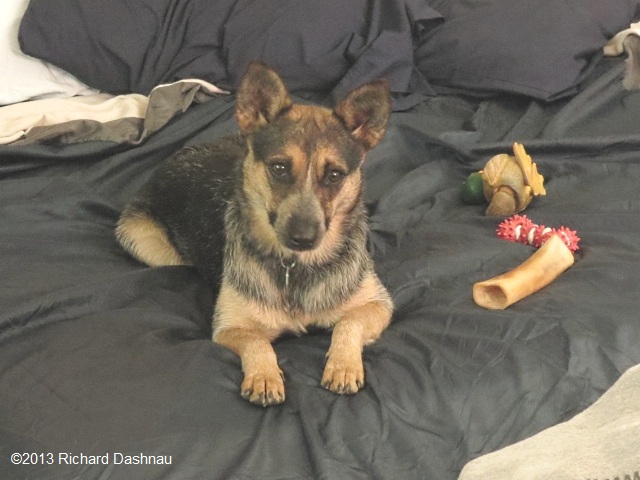 now has her own page. For Piper-related news, you can go here.

---------------------------------------


------------------------------------ 40 ACRE LAKE!! 11/19/2006
Here is a picture I shot 11/19/2006 from the top of the Observation Tower at 40 Acre Lake. What an improvement from the summer! Click on the image for one that's a little bigger.

I have created all the content on *my* pages. That means that I have either shot the video, taken the pictures, or performed any demonstrations. That also means that I've edited every image on these pages, that is, I've cropped, enhanced, resized, labeled, and otherwise optimized
*every* single image on my pages. That means that I've also edited, enhanced, extracted images from, recoded (in two or three or four formats) every *video clip* on these pages. I've also, for better or worse, composed all the text and layout on these pages. I've had to learn to use the
various utilities for doing all of this, as well as finding and legally getting copies of them in the first place. I'm also responsible for all the hardware used to do this. I also pay for the server space used for all of this information as well as for my access to it. It costs a lot of money, time,
and effort to put these pages out here...hopefully to entertain and to inform. And this is *after* I spend time at my "day job". People are welcome to the information here, but if it's used elsewhere, then I deserve credit for my effort. If it is used for someone else's profit, then I deserve
part of that profit. *That* is the purpose of my notices about copyright.

This page was born 9/16/1999. Rickubis designed it. (such as it is.)
Go back to my home page, Welcome to Rickubis.com
How many come by to see the RICKUBISCAM ? Well, lets look at the counter

provided by: WEBCOUNTER.
Counter started June 18, 2001. 1/10/2012 = 10473 3/25/2014 10904 9/12/2014 = 10959 11/19/2015 = 11137 2/16/2017 = 11326
It's the Lost Skeleton of Cadavra! Go buy it! This movie makes me laugh all the time. If you share my love of 50' B-movies, you'll probably like this movie.
Check these clips 01--02--03--04--05--06--07 (1 & 5 should interest my ranger friends). They are in chronological order, but don't give away too much.
Clips copyright of the various owners. No ownership by me is implied and clips are only here to promote the film.