ALLIGATOR BEHAVIOR page 8: DENS, BURROWS, HOLES
This page was born 12/08/2013. Rickubis designed it. (such as it is.) Last update: 7/14/2015
Images and contents on this page copyright © 2013 -2015 Richard M. Dashnau

Alligators alter their environment in various ways. They can make "gator holes", or "burrows" (which are sometimes called "dens".) During my time at the park (more than 10 years), I've been able to see some of these structures. While there are many references to alligator burrows, or dens, I can find little information on the actual shape and size of them. I've found some information in the recent book "Life Traces of the Georgia Coast ", by Anthony J. Martin, and his companion website of the same name.
The alligators make their structures to control the environment to their advantage. Gator burrows can serve as shelter from extremes in temperature (both hot and cold); as a receptacle for water (it can maintain some moisture within); and even as a temporary shelter from fire. An alligator den is usually excavated under the water. It goes straight for about a meter (3.28 ft), then can turn right or left. The burrow continues until an end chamber - sometimes above the water table, sometimes not - that is wide enough for the alligator to turn around. Professor Martin has measured at least one den that was 4.6 meters (15 ft) long! He and his associates used tape measures and ground-penetrating radar to take these measurements.

12/25/2013--I made the first 2 animated gifs below from screen shots of a model I made of an average alligator den. I used the mid-range measurements, and created this model using FreeCad, a free, open-source 3D modeling software. It's my first model using this software.
Next, I subtracted the first model from a "block", and added some simulated digital "alligators", to show the den inside substrate. The last 3 anigifs are different views of this model.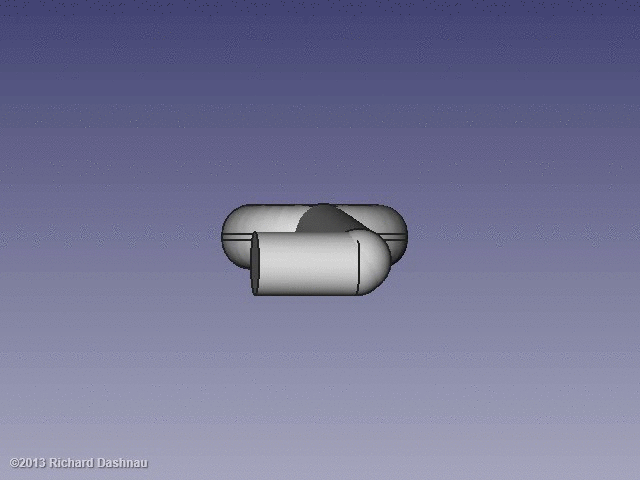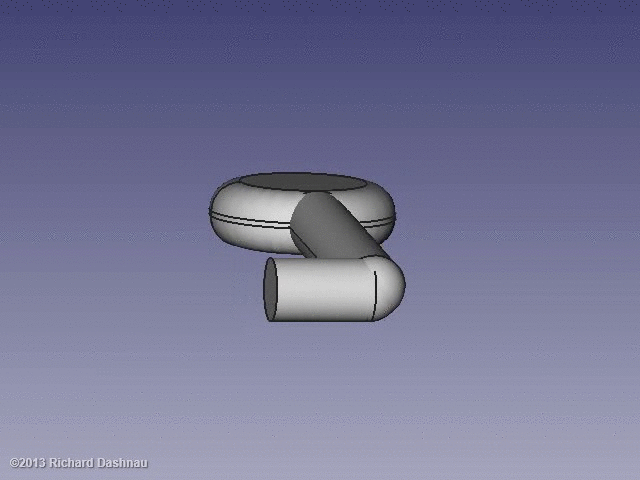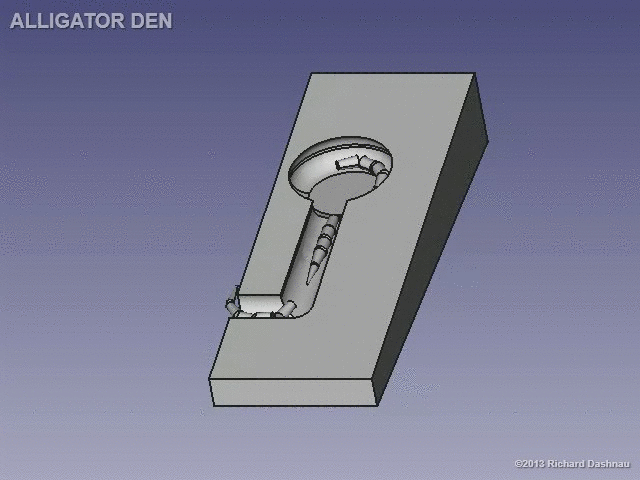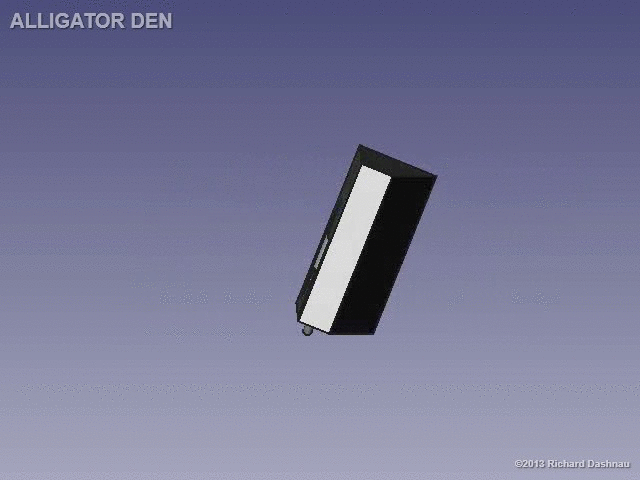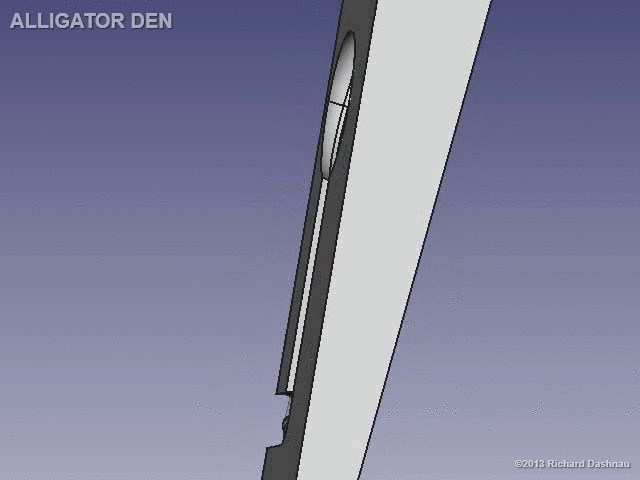 Alligator Den FLAT Alligator Den TILTED Alligator Den in Block Alligator Den in Block Alligator Den in Block
This 3D PDF should allow for realtime rotation of the model. Instructions are shown on the sheet. Try the link here. NOTE--this file may not work when viewed in your browser. Try downloading the file and
opening it with your pdf software (like the Adobe viewer).
According to Anthony Martin's writings,alligators will sometimes nest near a den to allow easy access to the shelter. This would also explain how the small babies could survive their first few winters-the den would be an excellent temperature buffer to prevent the worst cold from reaching them. I've read that a den can be used to shelter baby alligators, and I have seen this in practice. One example: At the end of 2011, low water level revealed a den on an island in Elm lake. During the winter, a mother alligator and about 30 babies could be seen using the den until rising water hid it again.
From the same sources, I have also read that dens can be used over many years, and a single den may be the shelter for different alligators over time.
I intend to collect the few pictures and video clips I have showing alligator dens and place them here. While my other pages are arranged in a loose chronological order, this page will not be structured that way.
This den was in Pilant Lake--actually visible from the North loop of the 40 Acre Lake trail-- On 7/26/2013. I noticed some movement near the waterline. Something large was moving under the water, and I assumed that it was an alligator herding prey (what I call "seining"). But, when no prey was flushed out, and the alligator never caught anything, I knew otherwise. I believe the alligator was digging a burrow. All of the the images below are frame captures from video clips I shot during this time. Clicking the links as I label them below the images will show the clip that those images came from.
An interesting point to consider is that although many people seem to know that alligators make burrows (or dens), there seems to be very little information about how they actually make these burrows. An alligator's front feet (manus) barely reach to the tip of its nose when its skull is in line with its spine. How does it dig forward, and move the mud out of the way - and out - of the burrow?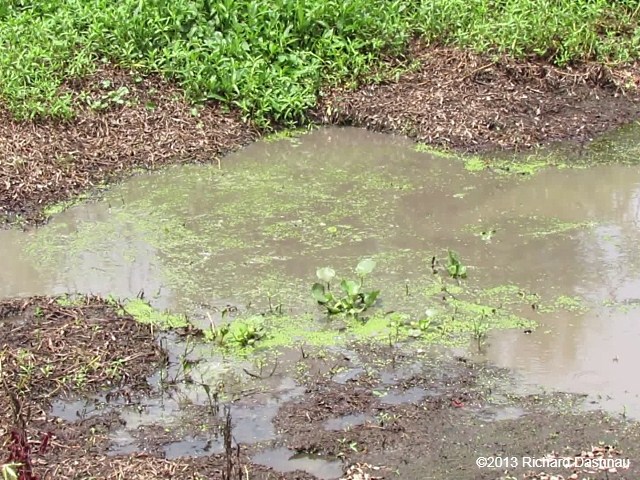 --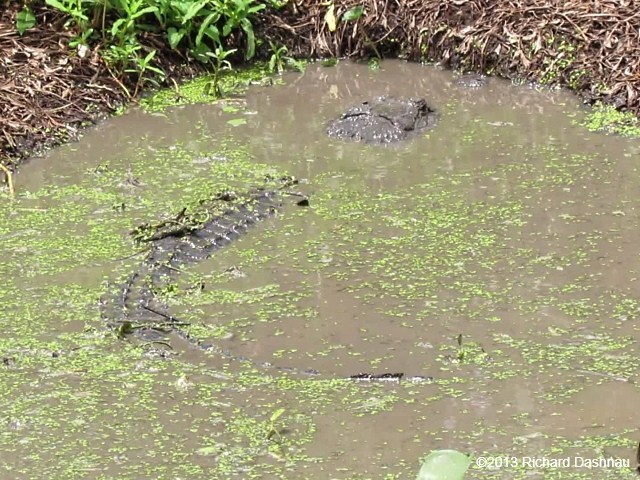 --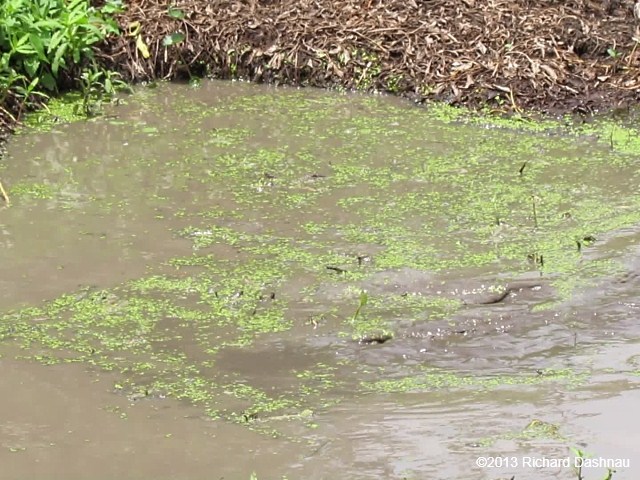 --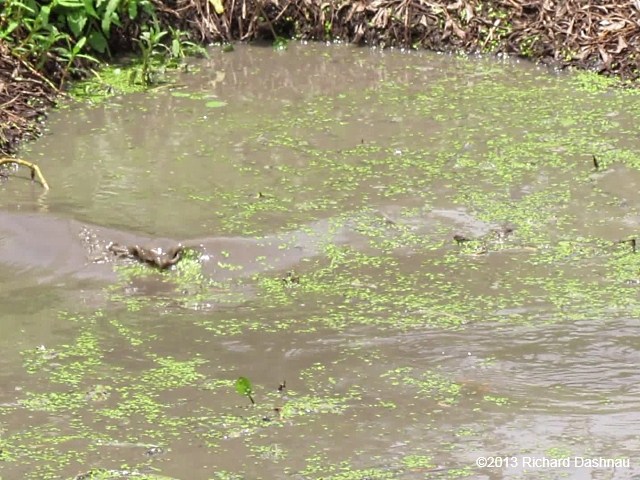 -
TWO SWIRLING CURRENTS ALLIGATOR SURFACES UNDERWATER MOVEMENT TURBULANCE
DEN DIGGING WMV 28.6MB
DEN DIGGING MP4 28.3MB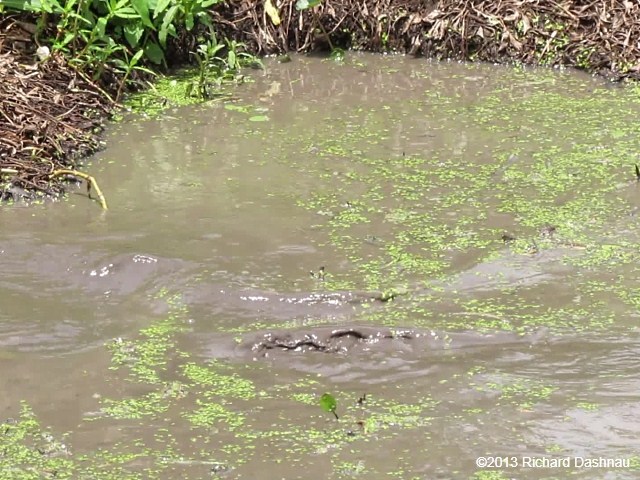 --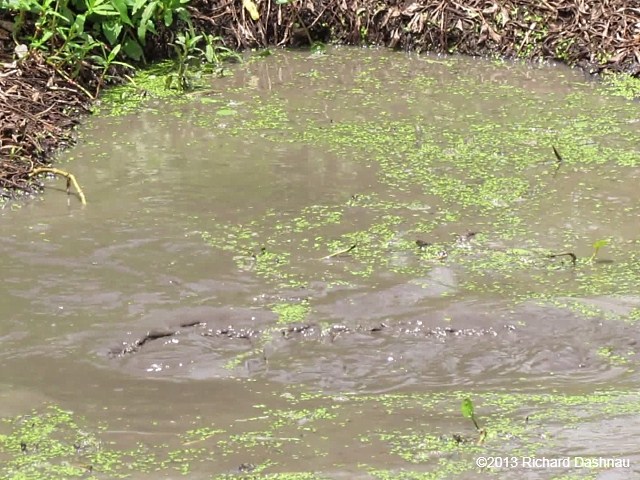 --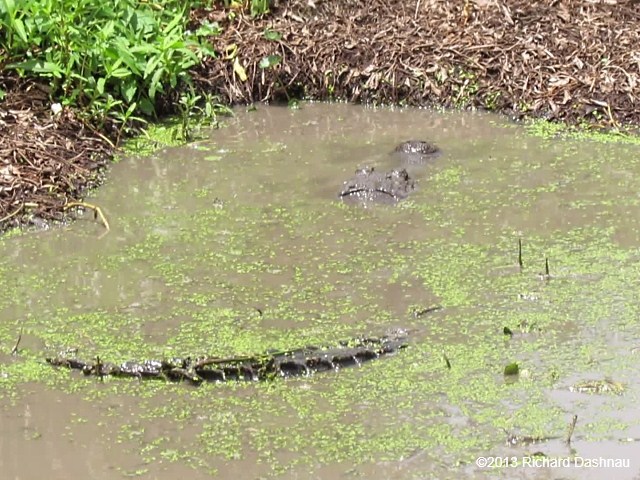 --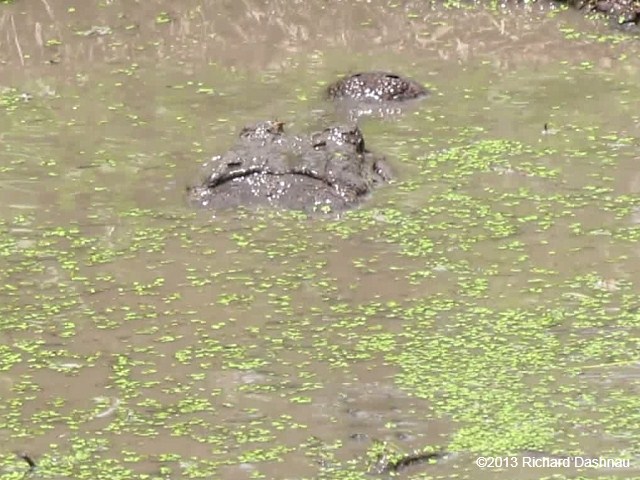 -
MORE TURBULANCE EVEN MORE TURBULANCE SURFACING AGAIN HEAD COVERED WITH MUD

By 8/11/2013, the water had all but dried up. But, there was some remaining in the den.
And, sharing the den (and the water) was at least one small frog. The first 3 pictures were taken in the morning. Later in the day, two vultures were poking around the edge of the den.
The alligator did not confront them. The vultures appeared to be picking at the moist, rotted wood in the mud. The last picture was taken after noon.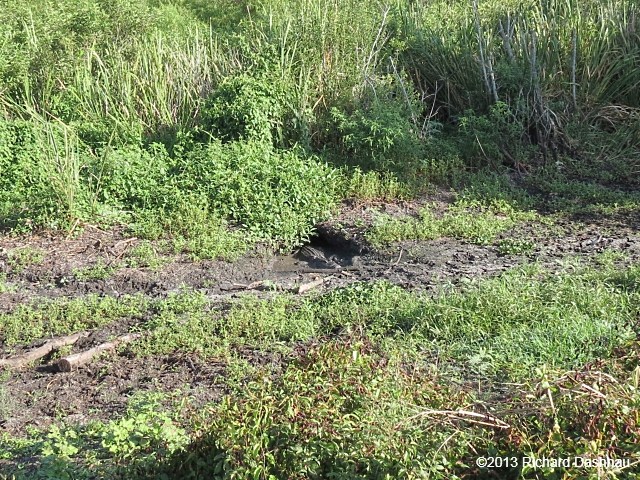 --
--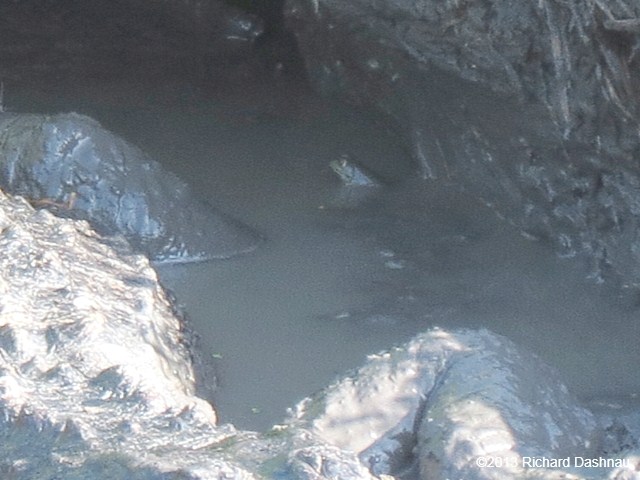 --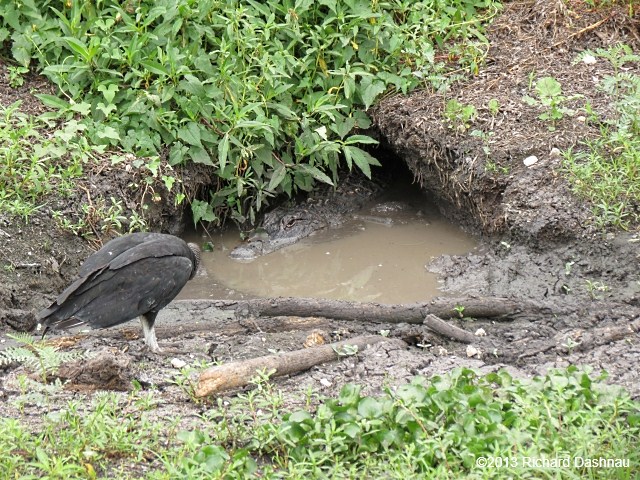 REALLY, REALLY DRY ALLIGATOR IN THE DEN ENTRANCE A FROG SHARING THE DEN SPACE VULTURE PAYS A VISIT

By 8/25/2013, we'd gotten a little rain. But we also got some baby alligators!
If there had been a nest near this den, then it wasn't easily visible from the trail. But the baby alligators sure found it! I think the mother alligator was under the water, but I
never saw her.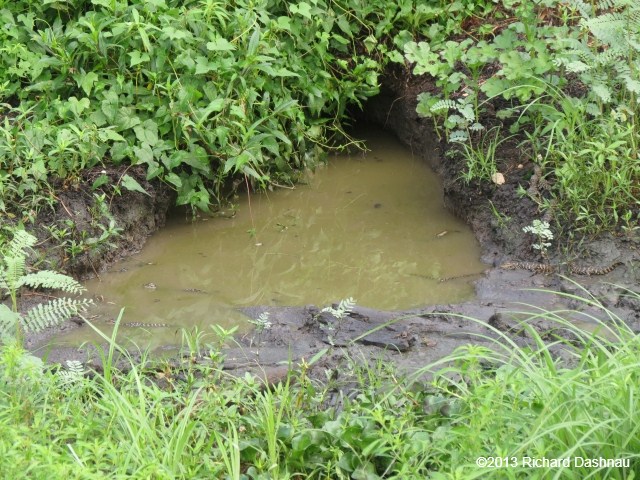 --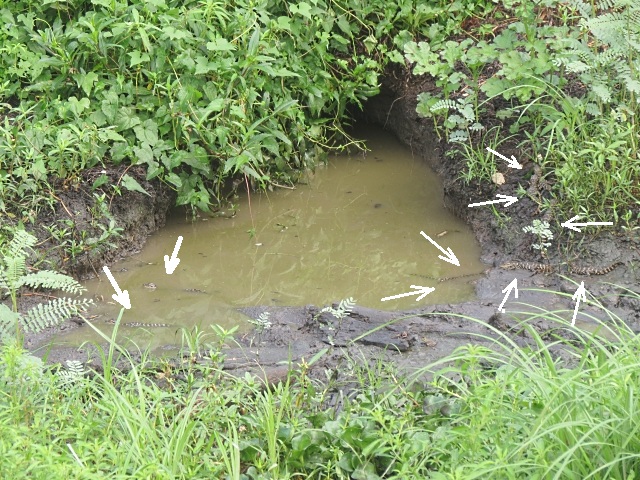 --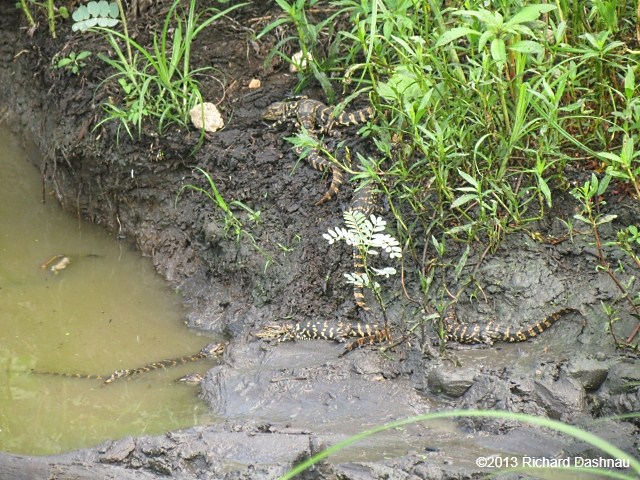 --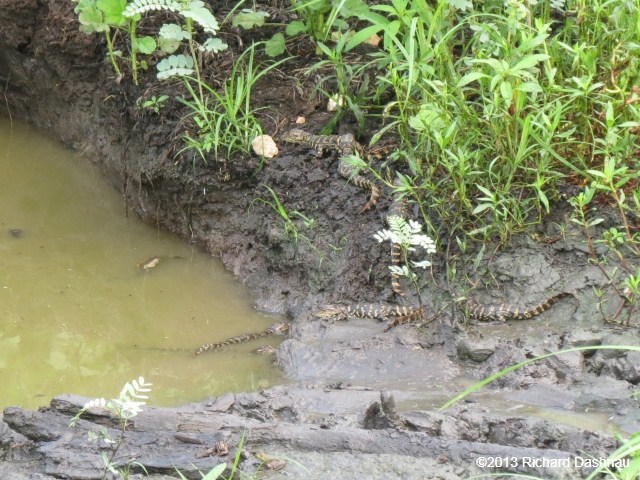 9 BABY ALLIGATORS NEAR THE DEN 9 BABIES POINTED OUT RELAXING BABIES THE BABIES AGAIN
-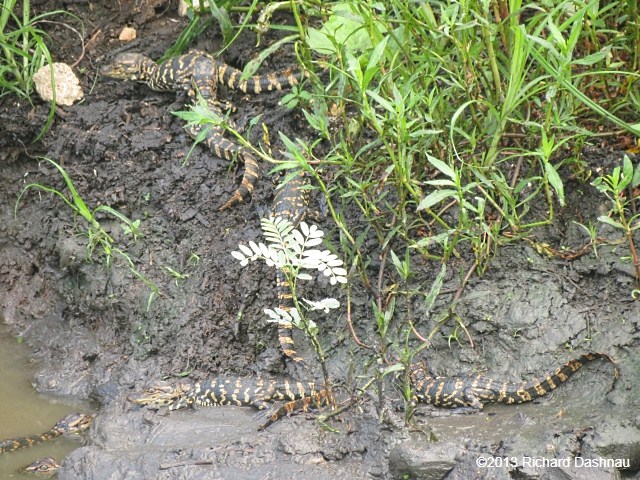 CLOSE-UP OF SOME BABIES

By 9/01/2013, we'd gotten a little MORE rain, as shown by the lush greenery. Here's the den, apparently uninhabited for now.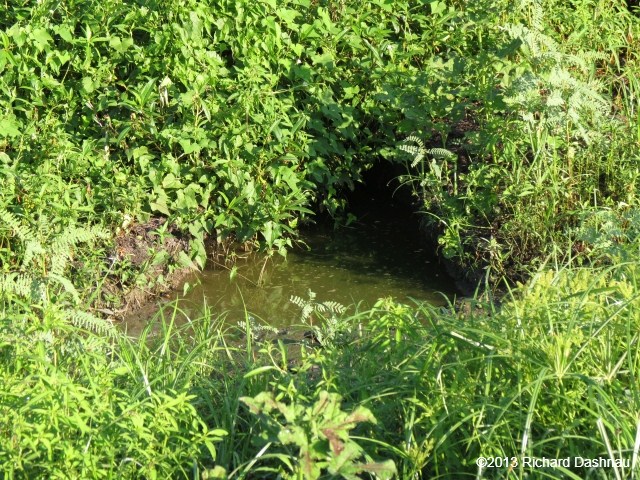 --
THE DEN
At the end of 2011, water levels were low again. The low water caused two dens to be exposed on an island in Elm Lake. A large pod of about 30 baby alligators was near the den.
The pod remained near the den into the beginning of 2012. Starting in January of 2012, Elm Lake was filled by pumping water from Pilant Lake. Finally, the water covered the
entrances to both dens; and the mother and baby alligators were gone. The pictures below are from January of 2012.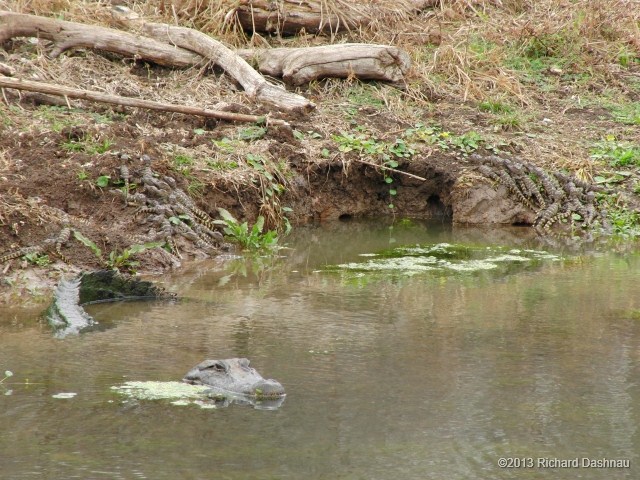 --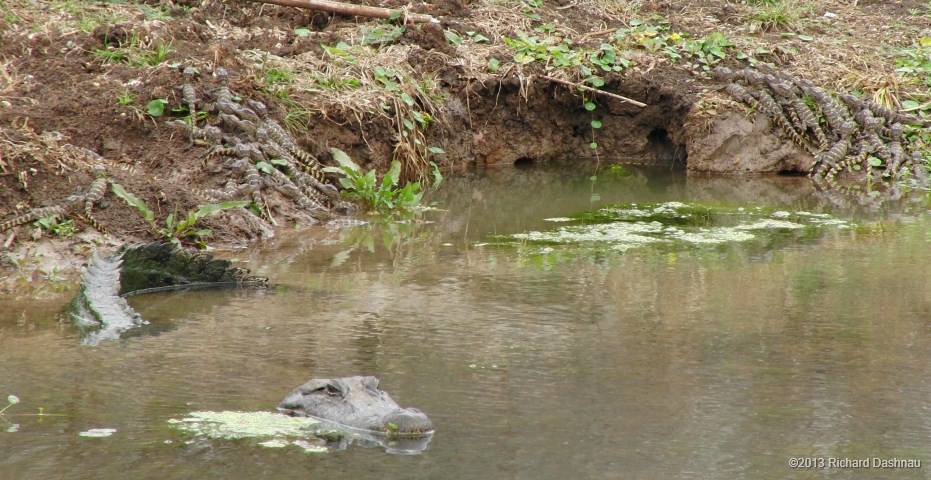 --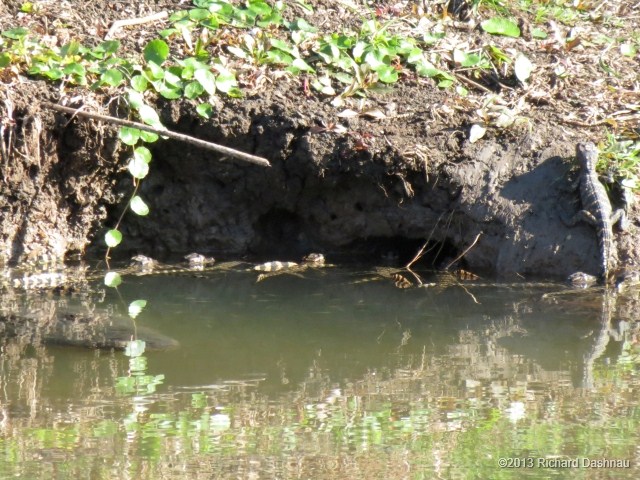 --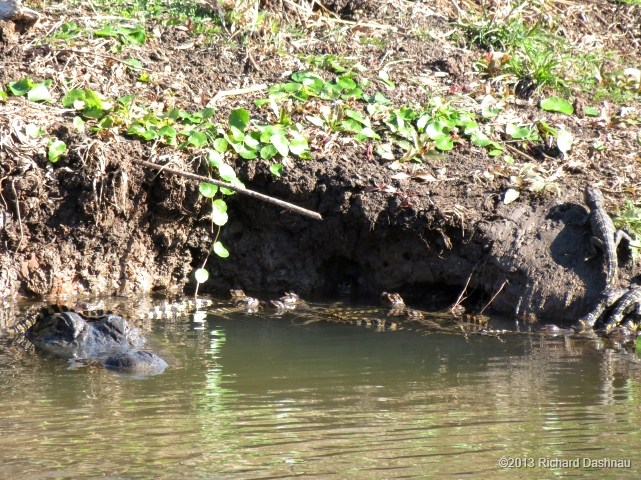 01/22/2012 ELM LAKE MOTHER, BABIES, DEN 01/22/2012 BABIES ARE ON EACH SIDE OF THE DEN OPENING 01/29/2012 MOTHER SUBMERGED 01/29/2012 MOTHER, SURFACED
On 01/04/2009, the water level in Hale lake had dropped enough to expose this den near. As I show in the second picture below, the water level was usually at least 8 ft higher, so the den was dug
in deep water. This large alligator in front of the den looked like a dragon in front of a cave.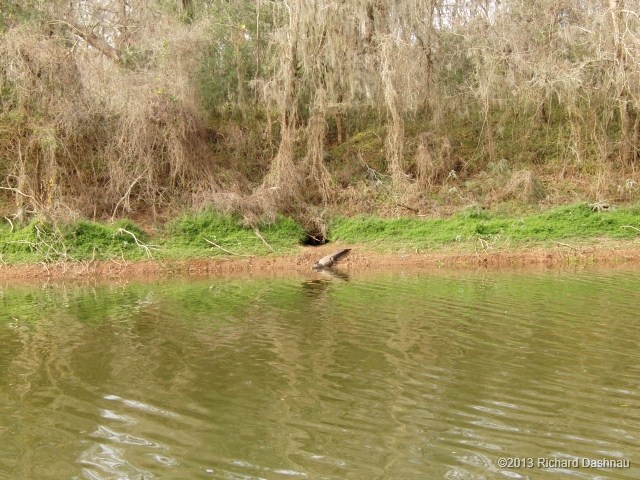 --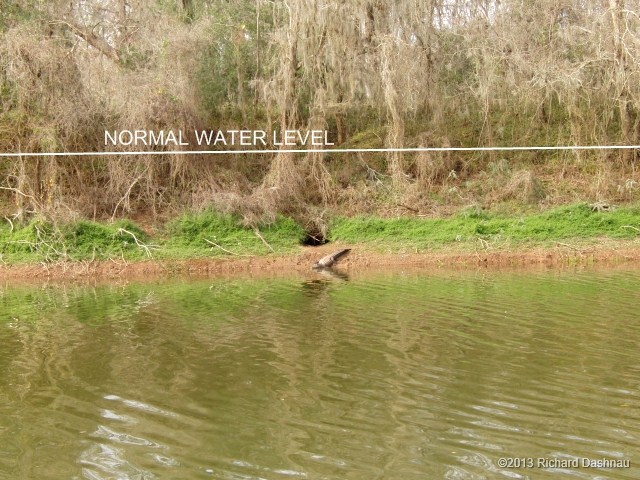 --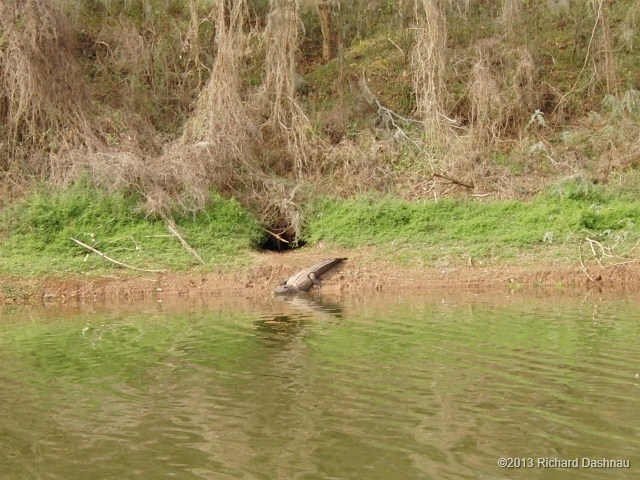 --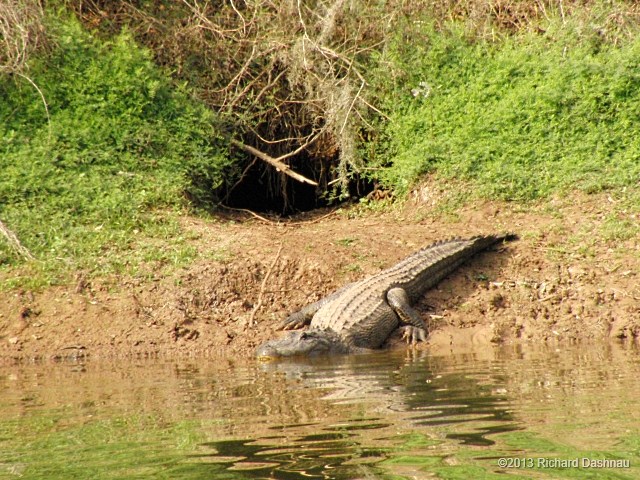 HALE LAKE DEN WITH ALLIGATOR NORMAL WATER LEVEL ABOVE DEN SOMEWHAT CLOSER VIEW LARGE DEN ENTRANCE
-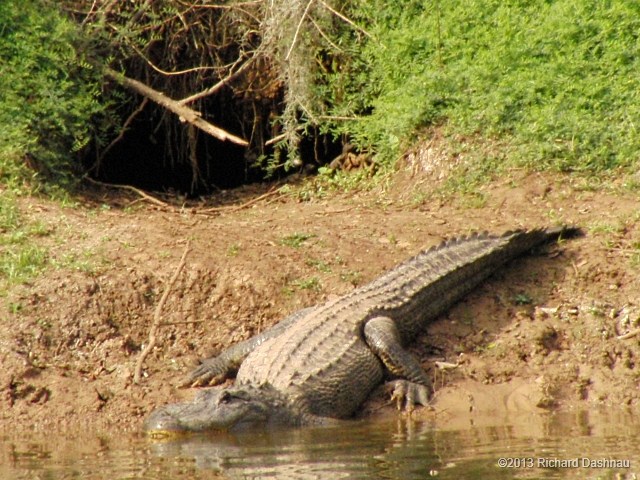 THIS IS A LARGE ALLIGATOR


Brazos Bend State Park The main page.

Brazos Bend State Park Volunteer's Page The volunteer's main page.


Here are a few links to more information on alligators. There's a LOT of it out there.

Fish and Wildlife Endangered Species

Here are my "alligator behavior" pages:

And, this page shows alligators at the park, on land, near various landmarks at the park.

Go back to my main alligator page, Alligators

Go back to my home page, Welcome to rickubis.com
Go back to the RICKUBISCAM page.
Go back to the See the World page.