ALLIGATOR BEHAVIOR page 5d: BABY ALLIGATORS--part 4
This page was born 11/29/2012. Rickubis designed it. Last update: 7/14/2015
Images and contents on this page copyright © 2004 -2015 Richard M. Dashnau

ADDITIONAL--09/05/2005 I've received a few questions since I posted the above story. The best question was: "Why is this necessary?", or, "Why do the alligators need help hatching?" I really should have mentioned this before, so here it is.


When we take the eggs away from a nest, a few things change. First, they are no longer in a "proper" alligator nest. Second, they are in less natural temperature and humidity. Third, the female isn't protecting them.
The alligator nest is usually a compost heap. It's a pile of rotting vegetation and mud. Bacterial action is what causes rotting. This gives heat as a by-product, and helps incubate the eggs. BUT--there may be some effect of the mud and grass on the egg shells. As time passes, bacterial action-or even soil acidity-may help wear down the shells enough for the baby alligators to break free. As the embryo develops, it also absorbs calcium from the egg shell. Even so, female alligators have been observed gently cracking the eggs in their mouth to help them hatch. So, our assistance isn't necessarily that different from what normally happens.
The other factors; temperature and so on, can affect the incubation time. By observing the eggs we can usually tell if they are viable, or alive. But, we cannot tell when they are supposed to hatch. In this batch, a few of the babies started breaking through the shells, so we knew it would be a good time. Even so, not all the eggs are exactly alike, and some may be a little less developed.
If we don't open the eggs, the baby alligators may not be able to break through them, and they will either suffocate or
starve to death in the eggs. Generally, at least one nest a year is hatched manually; and usually because a nest has had to have the eggs removed for some reason such as fire ant infestation, or flooding.
So, it's a matter of educated guessing, and sometimes testing the eggs. Of course, if you hatch them too early, the babies are premature and may not live. If you wait too long, they may die in the shell. In four years at the park, I have only seen successful hatchings.
In the book Crocodiles: Inside Out, by Richardson, Webb, and Manolis' pub. 2002; it says that American Alligators have the shortest incubation time of all the crocodilians. The book says that most other species have an incubation period of 11 to 14 weeks in the wild; while the American Alligator incubation takes about 9 weeks. (page 99) This is given as an adaptation to the short period of time the eggs have to develop before the weather gets cold. If so, this is another example of why no other crocodilian species are likely to survive and breed here.
The book also states that hatching can be delayed or prevented if dehydration of the eggs is severe. (page 100).
To see my other webpages about baby alligators and hatching see:Baby Alligators 1; Baby Alligators 2

August 28, 2005-- That's right. Baby alligators! Eggs were rescued from an alligator nest (fire ants had infested the nest) just a week ago, August 21. People were alerted that the eggs were ready to hatch by the appearance of an alligator nose through one of the egg shells. I was lucky enough to have this happen on my "park day", so I was able to be there with my camera. Also, I got to hatch 3 eggs! This time, they were almost hatching themselves, and when I held an egg and started to open it, the baby alligator inside would begin chirping. I could feel the vibration through my fingers! Being near an alligator is a treat for me. Holding one is better. HATCHING one is even better! The image below (ANOTHER NEW ALLIGATOR) is a frame from a video clip I shot of me hatching the first one. You can see another frame below (see I SMELL...AIR?, below, or see the VIDEO CLIP 1780kb). I've left the sound in this clip. Listen closely, and you will hear the low chirps of the baby from time to time. I shot the video clip using a tripod, and I put my hands where the camera was focused. I had fortunate results.
-------------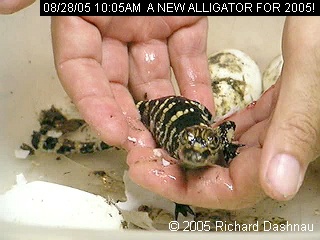 ---------------------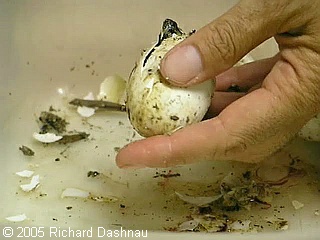 ANOTHER NEW ALLIGATOR! I SMELL...AIR?
SHORT VIDEO CLIP 1780kb
Below is a sequence of pictures I shot of the second egg. As before, I'd open the shell, then take a picture with the camera in my right hand, then do the next step, and so on.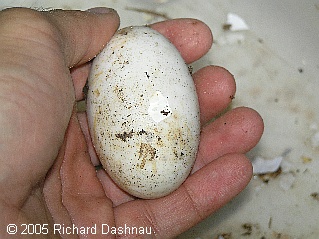 -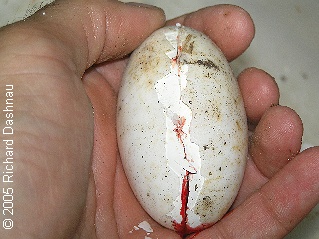 -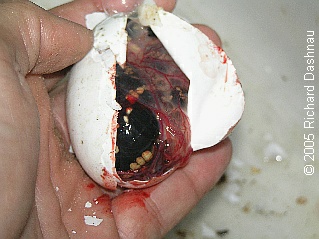 -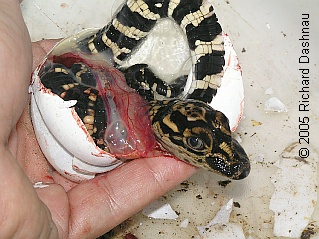 THE EGG LONG SCISSOR CUT MAN, IT'S TIGHT IN HERE UNWRAPPED PACKAGE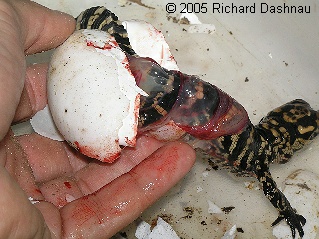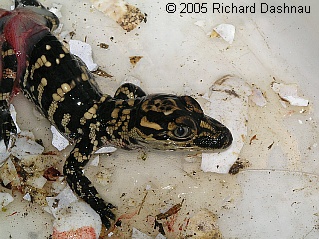 -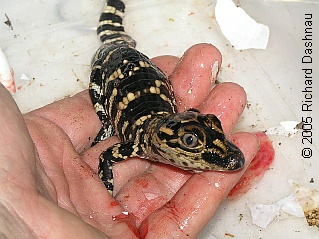 I'M FREE! CAN YOU GET THIS MEMBRANE? LOOKING UP AT RICK
Some time ago, a park visitor asked me if alligators "imprint" (not in those words), that is, if they notice themselves to the first large animal they see and interpret it as their parent and begin associating it with food and protection. It was an interesting question, and I haven't found anything written about it. But, from experience, I would say "no, they don't".
The baby alligators don't seem to recognise us as any kind of protection. Like almost any animal, they can learn to associate us with food...but they don't treat us like they do a female alligator.
I've seen baby alligators in the wild with a parent. They will run or swim towards it--while chirping--if they feel threatened. As far as I know, even alligators that have been captive for a year will not run towards a human if they are threatened. Another interesting behavior is what I've seen these captives do when released to a wild pod of babies with a parent. They will also start chirping, and move towards the female alligator, just like the wild babies do. If visited later, these "yearlings" that had been captive show no recognition to humans. They don't move towards them, and will move closer to the female and/or chirp if approached. That's pretty cool considering they'd never seen a large adult before.
And, images from my third egg are below. There was a hard, brittle outer covering; and then a more flexible tough sheath underneath. The video clip 1780kb shows how each step works. We hatched out 17 eggs.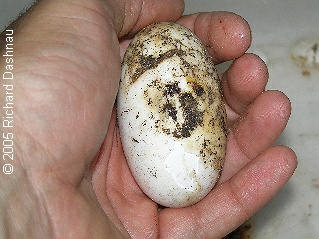 -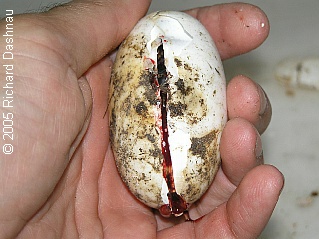 -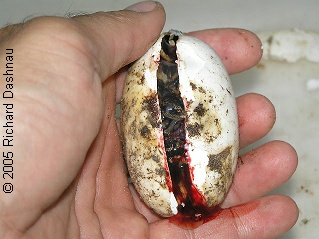 -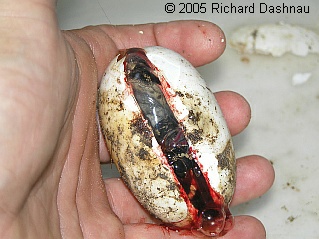 ANOTHER EGG LONG SCISSOR CUT I CAN SEE MY TAIL! PUSHHH....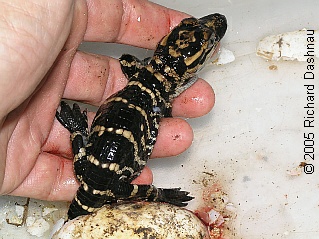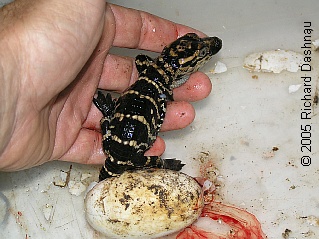 -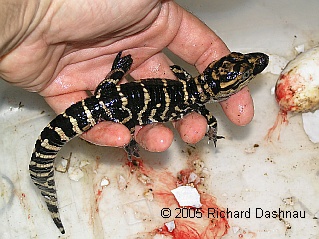 POP! I'M STILL STUCK! UNFOLDING AND RELAXING
September 23, 2004 The picture below shows a red-eared slider that is about one week old, hatched in the VC/NC at Brazos Bend State Park. Also in the picture is a quarter. (see BRAND NEW TURTLE, below)
---------------------------------------------------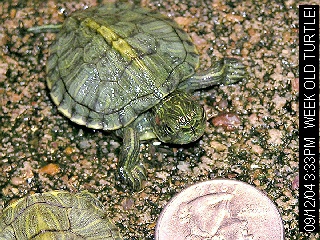 BRAND NEW TURTLE
The weeks between August 27 and September 20th were marked by various hatchings. The red-eared slider eggs were discovered when a huge dirt pile (that had been there for years) was finally being used for road surfacing. One of the rangers found them, and brought the eggs into the VC/NC. Also during this time, the alligator eggs that were found in an abandoned nest (the mother alligator had died from unknown causes) and brought to the VC/NC also began to hatch. This year, the eggs didn't hatch together, so there was no announcement of a mass-hatching, and I didn't get to assist. Out of the 27 eggs, 16 hatched successfully. One of the new babies can be seen sitting on my hand. See (WOW! SOME WORLD, below.) I can't help it. I just love watching the young alligators as they look out at the world.
The first of the outside nests to hatch (among those we could observe) was the nest on the island at 40 Acre lake (see the June 20 section above). This nest apparently hatched sometime around August 22nd.
The Creekfield nest (see the June 27 section above) was observed hatching September 8 (I believe--I'll have to check). Some lucky people got to observe the mother alligator carrying the babies from her nest to the water (at least 25 yards).
There was some bad news. There was a nest on Pilant Slough, not far from the VC/NC, that was also being observed. After all these other hatchings and with no activity at this nest, it was decided to inspect the eggs. When the nest was opened (with careful observation of the female's location), it was discovered that the eggs were dead...and undeveloped. The female did come and protect the nest, though. I wonder how long a female will stay near a nest that has no live eggs in it. Perhaps now that some of the eggs have been opened, the smell will alert the female.
The Slough has been inundated with high water at least once, and probably twice, this summer, both times since June. This was caused both times by the Brazos River and Big Creek being swollen by rainwater from further upstream. Because the eggs were undeveloped, I suspect that the June event drowned the nest. This is only a guess on my part, though. I didn't see the eggs, and I intend to check for high water signs in the trees around the nest.
September 12--This weekend and last weekend, a female alligator was observed with babies near the Observation Tower at 40 Acre Lake. On the 12th, I could just barely see her in this water hyacinth (see MOM!, below), although I could hear the babies. In the picture, the baby is gaping (The next image labels where they are.).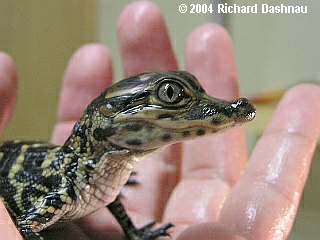 -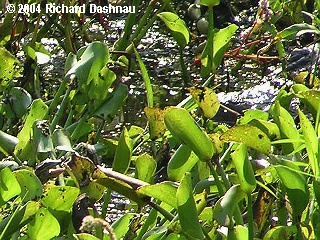 -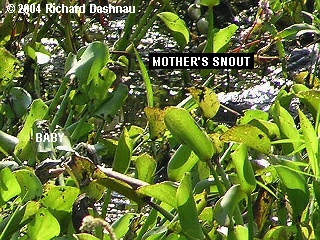 -
WOW! SOME WORLD MOM! MOM!--labeled
September 19--Apparently, the female who had the nest on the 40 Acre Lake island moved her young directly across the lake, and right near the 40 Acre Lake Trail. Unfortunately, I was looking into the sun, so they were hard to photgraph. But, I tried anyway. The first image (6 BABIES, above) *does* show 6 baby alligators. The camouflage is amazing! The next image labels the alligators. The next two pictures (5 OF THE SIX, and 3 AND 1/3 OF THE SIX) show closer views of the same group of alligators. The last image (THERE'S MOM!) shows the mother alligator's head (upper left) and one of the babies (lower right).
-----------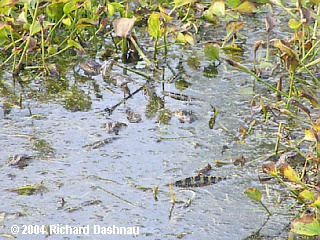 -----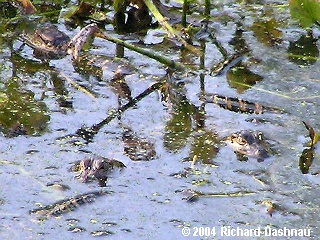 -------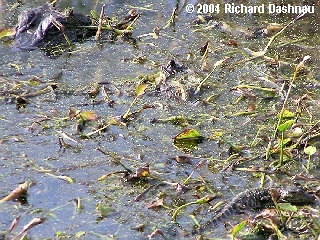 5 OF THE SIX BABIES 3 AND 1/3 OF THE SIX THERE'S MOM!
Finally, here's a SHORT CLIP OF 2 BABY ALLIGATORS 693KB that I took with the Olympus C-750.
June 27,2004--More alligator nesting news! An alligator has been seen walking back and forth on the Creekfield trial. Chuck and I went over to see what we could find. The alligator wasn't visible, but Chuck found a small mound which he thought might be a nest. Later in the afternoon, I heard that the alligator was seen again in the same spot, and when I hastened over there, I saw the alligator lying on the Creekfield trail (see GATOR CROSSING SIGN?, below). As I watched with some park visitors, she moved into the trees (see OK, I'll GO!, below). Further investigation showed that Chuck's guess was probably correct, and this was a female alligator building a nest about 15 feet from the trail (see GATOR IN THE SHADE, below). The nest is just barely visible a few feet in front of her nose. I guess we'll see what happens next.
--------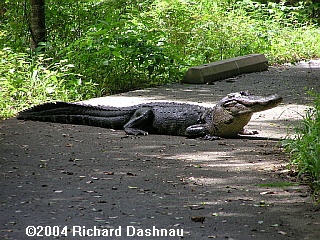 ----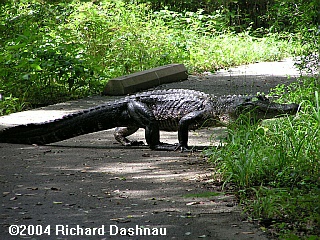 ---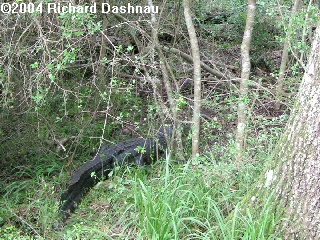 GATOR CROSSING SIGN? OK, I'LL GO! GATOR IN THE SHADE
June 20, 2004On the same weekend, I found out that the first alligator nest was discovered, spotted by volunteer Rose Aden. This nest is on an island in 40 Acre Lake, and is easily visible from the trail, if you know where to look (any of the volunteers or the naturalists can tell you where it is). The picture below (NEW NEST NO. 1, 2004) shows the nest, and also the female next to it (in the right foreground). As usual, click on the image to see it a bit larger.

--------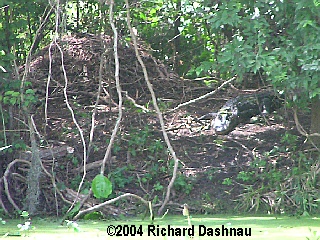 ----------------
NEW NEST NO.1, 2004
February 29, 2004 Today's weather was overcast and rainy, but some alligators came out anyway. The picture below (PROTECTIVE MOTHER) shows a female looking at me over a log. In front of the log is a small group of her babies, and she's been in this area with them since last August (see this page, it shows her nest last August 7th). I often go by and check on her, and we usually have a nice, quiet interaction. I respect her place, and be sure to back off when she notices me. I like our eye-to-eye contact, and pride myself that she's never demonstrated any aggressive behaviors towards me. I think it's very interesting that she moves carefully and silently while she tries to place herself between me and her young. It seems that a more noticeable behavior (like hissing or splashing) would drive more animals away. Perhaps she is unsure of what I'm capable of, and is sizing me up. This morning, she slowly turned towards me (after I'd been carefully moving closer for about 5 minutes), and submerged to get under the log. When she did, I quickly and quietly moved back about 10 paces, so that when she surfaced, I was not where she expected me to be, and was further away (see AND STAY BACK!, below).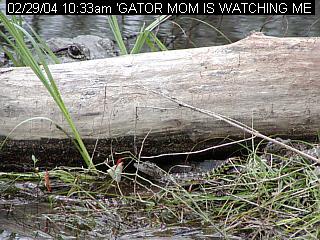 ---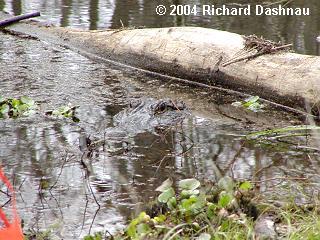 ----------
PROTECTIVE MOTHER AND *STAY* BACK!
If you'd like to know more about the park follow these links:
Brazos Bend State Park The main page.
Brazos Bend State Park Volunteer's Page The volunteer's main page.

Here are a few links to more information on alligators. There's a LOT of it out there.
Fish and Wildlife Endangered Species
Here are my "alligator behavior" pages:
And, this page shows alligators at the park, on land, near various landmarks at the park.
Go back to my main alligator page, Alligators
Go back to my home page, Welcome to rickubis.com
Go back to the RICKUBISCAM page.
Go back to the See the World page.