The Brief Story of the Ceramic Socket.

Last update: 01/01/2014

For about 2 years (since sometime in 2003), I'd been losing more and more mobility in my leg. By the beginning of 2005, there were times that I could barely walk without the support of a cane.
I was able get a full replacement for my hip in June 2005. Here are two pictures that I took of x-ray images of my new "toy" 10 days after it was installed.

------------------------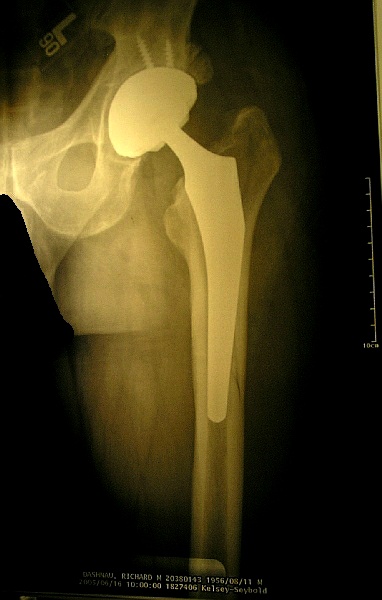 ---------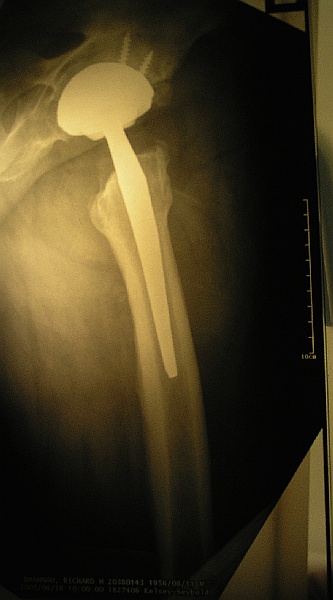 -
LEG TO THE SIDE LEG BENT FORWARD
Here's a link to a cool video animation I found showing this procedure at Wright Medical Technology. I can't say who made my hardware, but the basic theory is the same.
Now, considering the amount of changes wrought to my skeletal system, one would think that I was in tremendous pain afterwards. Not so.
Of course, I was under tremendous pain medication for the remainder of the day of the surgery. Still, that evening, when they sat me up to help recover from anesthesia, I was able to walk about 4 steps (with the aid of a walker).
Since I didn't enjoy the feeling of disorientation from the pain medication, I weaned myself off of it quickly.
The next morning, I was able to walk (with the walker, of course) about 220 feet. That afternoon, another 440 feet.
I was in less discomfort from that hip than I had been in over the last 2 years! For the next couple days, I walked when I could and then rested. Although I wasn't in a lot of pain, I was still recovering from the surgery, and would tire quickly.
Finally, I went home. The rest of this page will show a few stages of my recovery.
June 10, 2005 (4 days)--JUST A QUICK NOTE. Regular visitors may notice that this page has/won't be updated in a month or so. For those who know me here and in "realspace" I'd like to say that I'm fine, but have had a bit of a change lately. I've gotten a titanium/ceramic mechanical device installed into my leg, and have to patiently recuperate for a while. Hopefully it won't take long. Below, if you are interested are a few pictures and a link to a video clip, all taken today. I had one hip fully replaced last Monday morning. I was released yesterday at about 10. The pictures and video were taken today (My new hip is 4 days old!). Not bad (I was in Mon.-Thurs.), but I have to be careful for now. This is for those who have expressed concern for my well-being, and thank you all very much. And, if you can't guess which hip it was, then GOOD!
One more thing, thank you to all the staff who took care of me, you all were great--Laura, Barbara, Shirley, Mary, Virginia (physical therapist) and everyone else--and of course BIG thanks to the surgeon who did the work, whom I don't feel I can name here. He knows who he is. And super big BIG thanks to Kelly--for everything else.
-----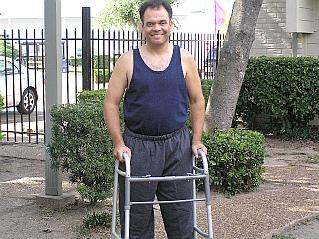 --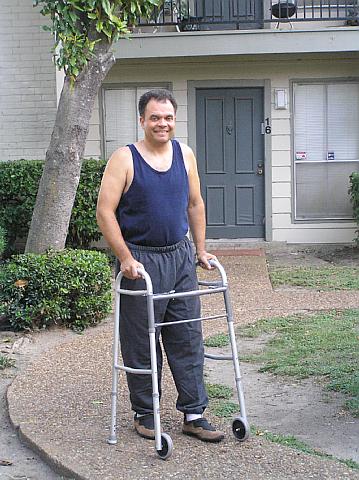 --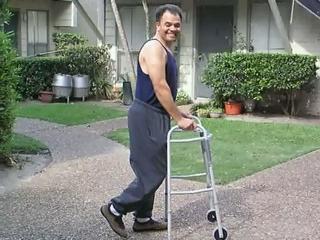 ----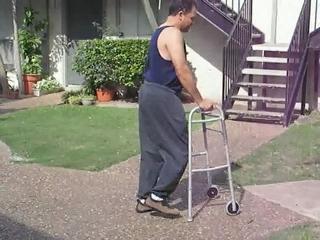 FRESH AIR! GREAT GAS MILEAGE FRAME 01 FROM CLIP FRAME O2 FROM CLIP
VIDEO CLIP (772KB)
June 17, 2005 (1 week, 4days)--JUST ANOTHER QUICK NOTE. Progress is being made. Things are healing. I've spent the last week walking as much as possible and resting in between (the healing process is causing me to wear out easily). The average for the last week has been a little over a mile a day. I haven't had much time to work on anything else. Today, I tried to retire the walker, and started moving around with 2 canes. I didn't do too badly, so I'm encouraged. The images below and the video clip show how I did.
-------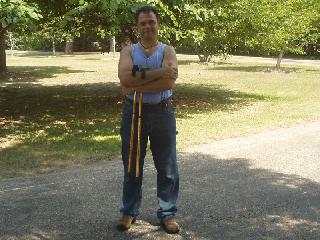 - -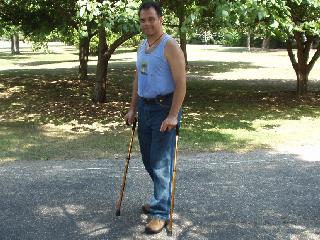 -
LOOK, NO FRAME! CANE WALKING
VIDEO CLIP (394KB)
June 25, 2005 (2 weeks, 5days)--I've been trying to walk 3 miles a day. For today, I thought it might be nice to visit Brazos Bend State Park for a while, and get my walking done. I've been using one cane for a while, and the improvement is there (see VISIT BBSP below left, or the VIDEO CLIP (418KB))
-----------------------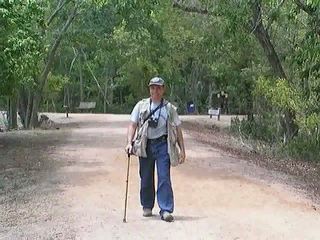 ------------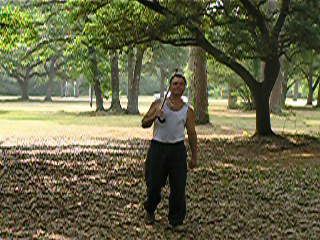 NICE TO VISIT BBSP! LOOK, NO CANE!
VIDEO CLIP (418 KB) VIDEO CLIP (397 KB)
June 27, 2005 (3 weeks)--I've been walking the 3 miles, mostly at Memorial Park, around the loop. I like it there for a couple reasons. First, it's just a nice place to be-- I used to exercise there for years. Second, since it's a loop, as I get near the end, if I start getting tired, well...I'm near the car, where I started. I've started walking for short periods without the support of the cane. It's been going well, as you can see in the picture above right (NO CANE, or the VIDEO CLIP (397 KB) )

July 22, 2005 (6 weeks, 4days)--Well, my "vacation" was over about 2 weeks ago. Since I've been back at work, I haven't had the time to walk s miles a day.. I walk a mile for lunchtime, though. I've completely stopped using a cane about 6 days ago, though and here I am on my lunchtime walk, and yes, it's in the 90's out here. Although slight limp is evident, that's just me being careful. There's NO PAIN AT ALL! Is that cool, or WHAT? (See WALKING STRONGER below, or the VIDEO CLIP (250 KB)).
-----------------------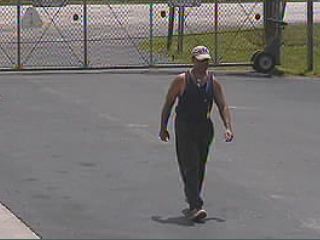 ---------------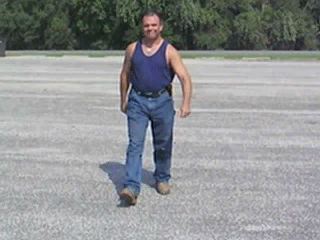 WALKING STRONGER SLOWLY I TURNED
VIDEO CLIP (250 KB) VIDEO CLIP (468 KB)
July 31, 2005 (7 weeks, 6 days)--Well, things are still improving. I've been back at work for 3 weeks, and back at Brazos Bend State Park volunteering for two...or was it three? Anyway, I'm almost walking normally, although I still have to work at loosening the various leg muscles. I'm quite satisfied. Here, I'm getting ready to leave the park. (see SLOWLY I TURNED, above, or the VIDEO CLIP (468 KB)).
-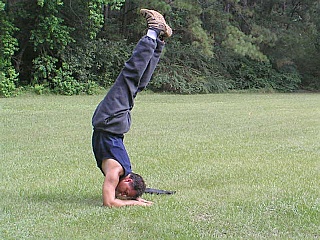 -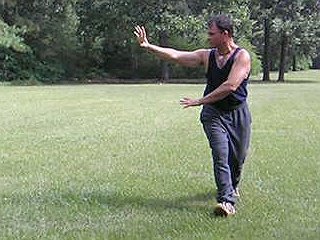 -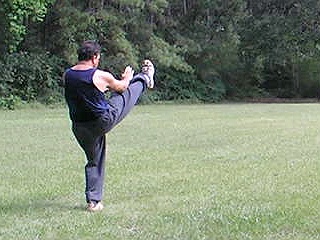 -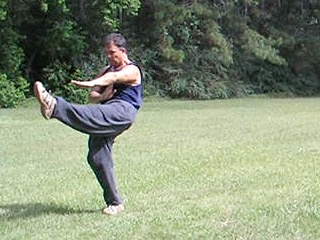 -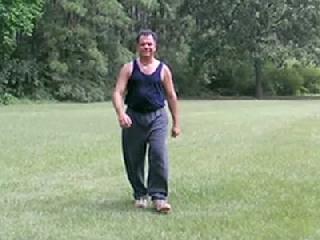 I CAN STILL DO IT CIRCLE WALKING RIGHT KICK LEFT KICK STROLLING UP
640 x 480 IMAGE
August 11, 2005 (2 months, 5 days)--I've started working towards recovering more movement. I've been strengthening my leg, and trying for more natural movement in my operated leg. Today, I experimented with doing some exercises after my 3mile walk. I've started stretching my thigh muscles, and while I was, I decided to try a headstand (see, I CAN STILL DO IT, above). I was also able to lift myself. If you want, you can see this video clip(2140kb), or a slightly shorter clip(1730kb) of my effort. Next I tried some circle walking (see CIRCLE WALKING, above). I was very happy with this, considering that I haven't been able to walk slowly (couldn't put put weight on my bad leg) for at least a year. I'll be working on getting back proper form now (work on proper sliding steps). If you watch this circle walking clip(647kb), you'll see that I'm not limping. After that, I tried doing some of the pa kua movements I've learned. I went through a series of 8 changes, and I was able to kick--which was another thing I haven't been able to do for at least a year (see RIGHT KICK and LEFT KICK, above). Although the form is not quite correct, it shows progress. Kicking with the right foot shows I'm able to support my full weight on my "bad" leg--which I haven't been able to do in a long time. Kicking with the left foot shows I can lift my "bad" leg and thrust it out--which I also haven't been able to do in a long time. There is a right kick clip(693kb) and a left kick clip(649kb), if you're interested. One is a continuation of the other. I'll hopefully be able to improve the kicks, also.
Finally, I just walked away from the camera, and then strolled back to it (see STROLLING UP, above) just to show off my improved walk, as shown in this clip(364kb).
Over the past 2 years or so, I'd become resigned to the fact that I was losing mobility, that it would be getting worse, and that I might not be able to walk at all before long. Being able to move at all (like...walk) is a great improvement! I can't think of a much better way to celebrate my birthday. Well, maybe I can...but this is right up there. Now, if I can just lose some of this weight....
Oh, one other thing. I can now say that I'm NOT 49 years old. Not entirely. I'm mostly 49 years old...except for my hip, which is about 2 months old. The way I see it; I'll NEVER be 50 years old! Well, not entirely. And...I guess I can have two birthdays starting next year. One in June for my hip, and one in August for the rest of me! Is that cool, or WHAT?
April 30, 2006 (10 months, 21 days)--Just a little update. I haven't been yet been able to get into a regular exercise routine like in "the old days" but I've decided to work slowly on getting at least some of my stamina back. I've started running, just a little. I run 200 steps, walk 100 steps, and do about one or two miles in this manner. Afterwards I'm doing some stretching and trying to get some flexibility back. The important thing is.... I CAN RUN! I couldn't run a year ago. I could barely walk at times a year ago. In fact, it had probably been about 3 years since I was last able to run! In this little video clip (shot April 30), I demonstrate how I can move in a way that had not been possible for me in years.
-----------------------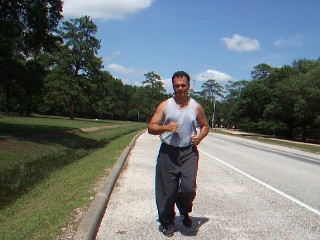 I'M RUNNING!!
VIDEO CLIP (1652 KB)
August 13, 2006 ( about 1 year, 2 months)--Now I'm trying to get back into some kind of normal condition. I can run most of a mile, but I still walk about 400 steps of it (I alternate to walking at intervals). I've got a lot more flexibility, but have to be careful because the new joint will NOT have the full range of motion that the natural one did. I don't want to chip the edges or pop it out. This is a good reason not to run excessively, too.
Still, I'm happy with my progress. Below are some frames from some video clips showing me testing some movement.
-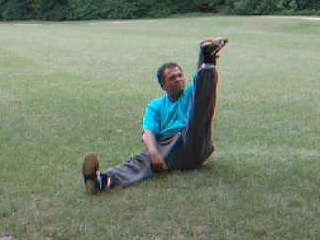 -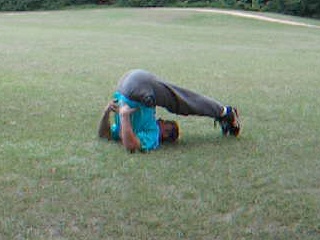 -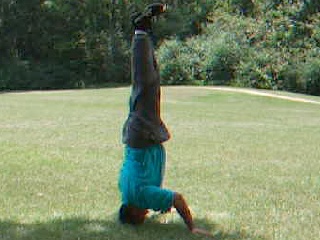 -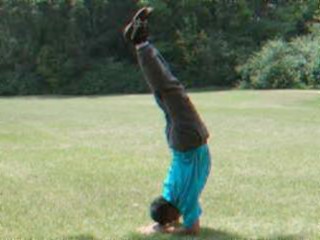 -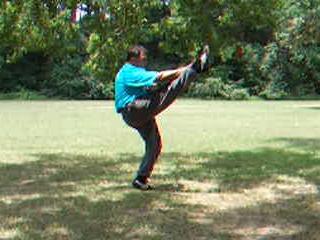 LEG STRETCH LEG AND BACK BACK ROLL AND HEADSTAND HEAD LIFT PALM CHANGE 1-2 KICK
LEG STRETCH VIDEO CLIP (5717 KB) HEADSTAND VIDEO (1922 KB) HEADLIFT VIDEO (1922 KB) CHANGE 1-2 VIDEO (2785 KB)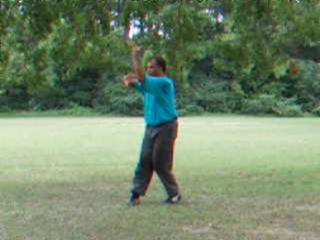 -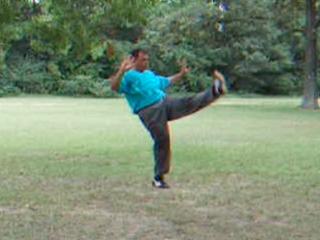 -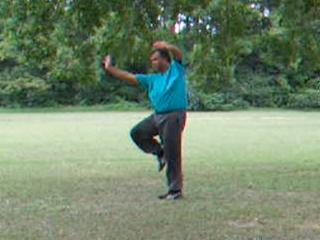 -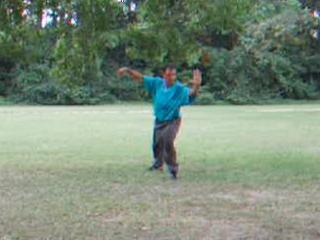 PALM CHANGE 2-7 TURN PALM CHANGE 2-7 KICK PALM CHANGE 2-8 HIT TAI CHI MOVEMENTS
PALM CHANGE 2-7 VIDEO (2785 KB) CHANGE 2-8 VIDEO (3551 KB) TAI CHI VIDEO (11035 KB)
This is not intended for any kind of competition. I'm just trying to maintain my health. I'm very happy with my hip.
Oh, and now I've passed the 50-year old mark. That's right. I'm over half a century old. I'm doing ok.
This page was born 7/30/2005. Rickubis designed it. (such as it is.)
Go back to my home page, Welcome to Rickubis.com
Go back to the RICKUBISCAM