ALLIGATOR BEHAVIOR page 7: GIANT FOSSIL CROCS!
This page was born 12/27/2003. Rickubis designed it. (such as it is.) Last update: 7/14/2017
Images and contents on this page copyright © 2002-2017 Richard M. Dashnau

This page deals with fossil crocodilians, and also will include some descriptions of what makes a crocodile different from an alligator. After all, when one is dealing with fossils, it is possible to be looking at remote ancestors of what is living now. Sometimes taking a close look at the remains can give hints of how our current animals came to be.

THIS PAGE CAME INTO BEING BECAUSE OF THE EVENTS STARTED ON JUNE 7TH, 2003, AS SHOWN ON THIS PAGE. ALTHOUGH THE SARCOSUCHUS WAS NOT (AT THIS TIME) SHOWN TO HAVE LIVED NEAR TEXAS, OR EVEN ON WHAT BECAME THE NORTH AMERICAN CONTINENT, THE DEINOSUCHUS DID. THAT IS, NOT ONLY DID IT (OR A COUPLE DIFFERENT TYPES) LIVE ON THE NORTH AMERICAN CONTINENT IN THE PAST, BUT ITS REMAINS HAVE BEEN DISCOVERED IN TEXAS (ALTHOUGH QUITE A DISTANCE FROM THE CURRENT GULF COAST AREA). SO, I STARTED THIS PAGE AS A PLACE TO PUT INFORMATION I MIGHT FIND ABOUT THEM. SINCE IT IS ABOUT RELATIVES OF THE ALLIGATORS (SOMEWHAT DISTANT, BUT RELATIVES NONETHELESS), I'M PUTTING THEM IN THIS SERIES OF PAGES IN MY DOMAIN.

June 07, 2003This weekend marked the opening of an exhibit in the Houston Museum of Natural Science. That exhibit shows the media-exposed fossil reptile known as "Super-Croc", or Sarcosuchus. . I find it interesting that there is another fossil crocodilian--remnants of which were found in the U.S.; which has been estimated to be about the same size (if not larger) while living than Sarcosuchus--known as Deinosuchus (sometimes Phobosuchus). For some reason that one isn't receiving the same media attention, though. But, I digress.
Frequent visitors to these pages will be surprised (yeah, right) to learn that I wanted to see this exhibit. On Saturday, a group of us from Brazos Bend State Park had an "outreach" table set up at the museum (see SPARK, below). During the day we showed examples of some living reptiles, and talked about nature in general (over 2,000 visitors to our table!!! YOW!). That was cool enough...but we *also* got to go see the Sarcosuchus! Is it big? Yep. The RICKUBISCAM, as well as the pictures below, with me in there for scale, should give some size comparison. The last picture (ALLIGATOR VS. CROC, below) shows my hand holding a tooth from a large alligator (perhaps about 11 feet long) that had died at the park some time ago. I don't know *which* tooth it is, but it's pretty big. I usually have it in one of my pockets (Don't tell me this is a surprise.). I was able to lean over into the display and snap this picture. That's an impressive difference.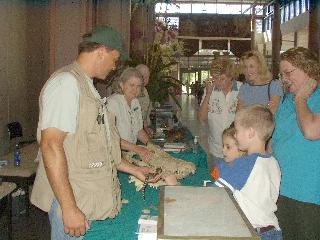 -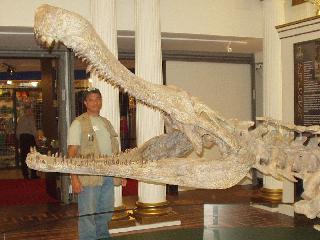 -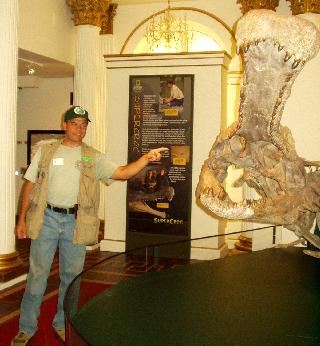 -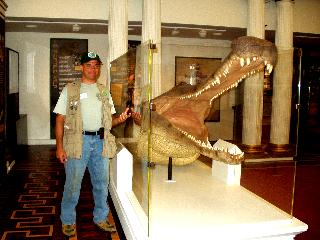 -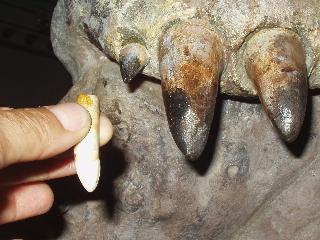 THE SPARK IN THEIR EYES I'M IMPRESSED 4 OUT OF 5 DENTISTS FIT DO NOT OVERFEED ALLIGATOR VS. OLD CROC
As time and resources allow, I'll try to find out more about the Deinosuchus.
Among other things, this is perhaps an illustration on how "popular" science might work. If you have the resources to pay for it, you can go to the media and make a discovery well-known. The traditional method--submitting findings for review by experts before going public--is the scholarly, scientific procedure. This takes time, however, and isn't very profitable. Going public with a more sensational discovery can generate media attention and reap financial benefits. It also allows one to make *their* opinions well-known and have their name attached to a significant finding. Is this a bad thing? While not giving a clear demonstration of how science should work--it *does* have the benefit of getting people interested. It gets them thinking...gets them into the museum. If, in the course of a TV special, full credit isn't given to others in the field, or some erroneous information is divulged--if *most* of the information is good; then it goes into those minds that were opened by the "sensational" aspects.
That seems ok to me, also. After all--*I* wouldn't have started looking for information on Deinosuchus if I hadn't gone and done *this*. Also, generating lots of interest in crocodilians while presenting them in a positive light is something I support.
Ha ha ha...but I guess people who visit here would know that.
Monday evening: I've found three places on the internet with some information on these large creatures. I can't believe I missed this. What was I thinking? I've found the book on Deinosuchus by Dr. Schwimmer. Hopefully it will be on its way to me soon. If anyone has any suggestions on how I could get a casting or mold or replica of a Deinosuchus tooth--that isn't too expensive--for the park , please email me (rickubis@yahoo.com). What an interpretive tool this could be! Alligators are one of our most popular attractions. Imagine being able to show a Deinosuchus tooth (or skull...hey, I can dream can't I?) and say that THESE crocodylians were hunting in the same area during the late Cretaceous that alligators live in now. Here are the links (I dislike linking to other pages for a number of reasons, but this is one of those few times I think it's necessary.): Picture of the jaws with information. Newspaper article.
June 14, 2003After last week, and the viewing of the Sarcosuchus, I had to find out more about the Deinosuchus, the giant fossil crocodile that was found in the U.S.. I found out that the skull of a Deinosuchus was on display at the Dallas Museum of Natural History. So, I went to go see it. The images below (RICK AND DEINOSUCHUS. RICK AND SARCOSUCHUS) show me standing next to two large ancient crocodylians. Cool? I think so.
-------------------------------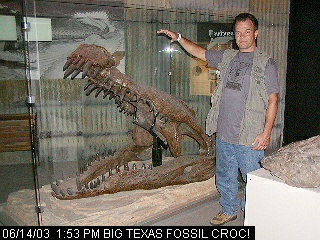 --------------------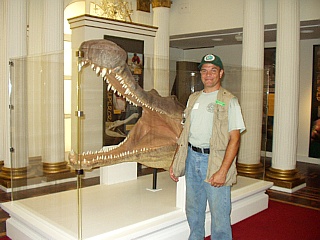 RICK AND DEINOSUCHUS RICK AND SARCOSUCHUS
Since then, I've found out some interesting things about the Deinosuchus in general (I've only just gotten this book) and the skull in Dallas. The information I mention here comes from the book: King of the Crocodylians-The Paleobiology of Deinosuchus, by David R. Schwimmer © 2002 .
First, the skull on display was originally shown at the American Museum of Natural History, in New York. This display was was made from fossils excavated from Big Bend National Park in Texas, in 1940. Unfortunately, only fragments of the skull were found, and so the largest part of the skull was modeled in plaster by extrapolating from recent crocodile species, most probably the saltwater crocodile (Crocodylus porosus).
However, later Deinosuchus finds have shown that the proportions of the reconstructed skull are not correct. Among discrepancies that have been found are: the profile of the upper jaw, which is curved upwards more than it should be; and the angle of the snout from the front to the back(viewed from the top). The skull has been reconstructed at too narrow an angle, similar to a crocodile's; while the Deinosuchus skull is actually broader--more like an alligator's. As a side note, the Deinosuchus skull also features most of the teeth in the upper jaw extending over the lower--covering the teeth in the lower jaw(also similar to an alligator's), with the exception of the fourth tooth on each side. These two bottom teeth were exposed while the mouth was closed. The teeth on the reconstructed skull featured in Dallas are also probably spaced too far apart. The reconstruction as it stands still does show an approximate size, though.
I hope that someday a more precise reconstruction can be made of the giant found in Texas. Fossils of this late Cretaceous reptile have been found in Alabama, Georgia, Mississippi, Montana, New Jersey, North Carolina, Texas, and Wyoming. The fossils seem to show (as far as I've read, at this point) that Deinosuchus was a successful predator that lived along the edges of the inland shallow seas and brackish swamplands of the time. Through most of its range, and in its habitat, it was probably the pinnacle predator, successfully competing with, and even hunting, the large therapods (carnivorous bipedal dinosaurs) of the time. As I find more information (that is when I read more of the book), I'll put more information here. I won't be duplicating any of the pictures from the book here, so if you want more information, find the book.
I just can't get over this huge reptile that could have been living right where I am now, and it probably hunted where I can see living alligators! Oh...one other thing. The Deinosuchus, while called an "alligatoroid type" in the book, is probably not a direct ancestor of the alligator, but probably on a branch of the family tree that branched off *after* the common ancestors of all crocodylians but split off again before alligators, and before crocodiles. (It's a bit confusing for *me*, but the term "crocodilians" seems to include living animals in this group, while "crocodylians" includes all, living and ancient, which share the same traits.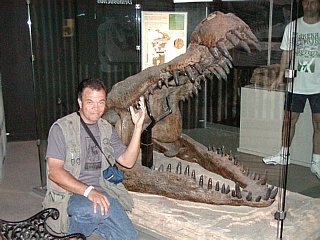 -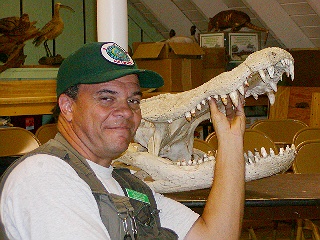 -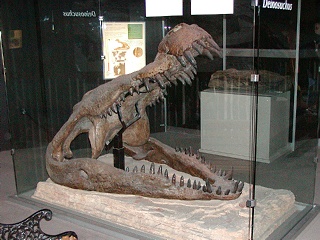 -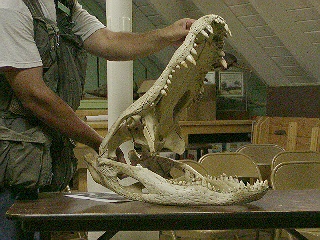 -
I'M A MORSEL! I CAN HANDLE THIS ONE DEINOSUCHUS SKULL 13 OR 14 FOOT ALLIGATOR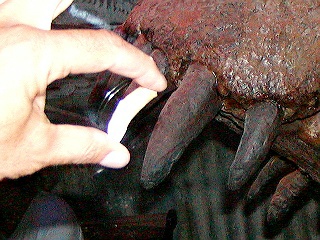 ALLIGATOR VS. DEINOSUCHUS
Here are more pictures. Here I am again, in front of the skull. (see I'M A MORSEL, above). For comparison, I photographed myself with the skull of an alligator that had died in the park( see I CAN HANDLE, above). The estimated size of the living animal was 12-14 feet long. There's another picture of the skull, without me (see SKULL, above), and then the same alligator, which I tried to stage in a similar position for further comparison (see ALLIGATOR, above). And finally, my alligator tooth (from an 11-12 footer) compared to the Deinosuchus in the case (see ALLIGATOR vs. DEINOSUCHUS, above.).
November 6, 2004I helped with a BBSP outreach at the Houston Museum of Natural Science today. We had about 2400 people (yes, two thousand four hundred) come by our table. In many events of this type, we have a "clicker" that we use to keep an informal count of people who stop by. We had about 200 stop by just between 9:30 and 11:00-and we didn't "officially" open until 11. There were 6 of us at the table. Early on, I mentioned casually that Dr. Robert Bakker was at the museum, and maybe I'd get a chance to see him, and possibly meet him. Through the day, I got occasional ribbing about it.
Then, he wandered by, carrying the foreleg of an Allosaurus, and he wandered over to our table. When he did, I walked over and asked if he was Robert Bakker. When he answered yes, I asked if I could shake his hand and said it was good to meet him. Then we had a short conversation about our crocodile skull, and I'm sure I sounded like part of my brain was missing. Afterwards, Chuck came over and said out of the corner of his mouth, "You get your chance to meet your hero, and you ARGUE with him? HA HA HA !"
"Great...THANKS! Shut up."
Later, I was bemoaning the fact that I didn't take any pictures, and neither had anyone else. I got ribbed about that, too.
"Ask him to come back over, he won't mind."
"No. YOU ask him."
I just didn't want to bother Dr. Bakker.
Later on (the day went fast), Sandy told me she'd asked Dr. Bakker to come by our table.
Sometime *later*, I was holding one of our snakes and talking to visitors about it when David came over and said, "You'd better give me that and go talk to your guest.".
And there was Dr. Bakker. I gave Rich my camera, gave him hurried instructions on its use, and Chuck got his camera.
And I walked over to Dr. Bakker and suppose acted a bit like a goof. Fortunately, I unfroze and actually uttered words.
Then Dr. Bakker handed me his Allosaurus claw and said "You should hold this." So I did (and that's I'M SPEECHLESS, below), and then we started looking at skulls and then talked to a few visitors to our table. He started looking at our skulls, and we discussed a few things and then we talked to more visitors. There was a little interchange between Sandy and Dr. Bakker. And then while I was talking to some people, Dr. Bakker wandered off. And that was it. Later, I found out that Chuck had also asked Dr. Bakker to come by our table.
---------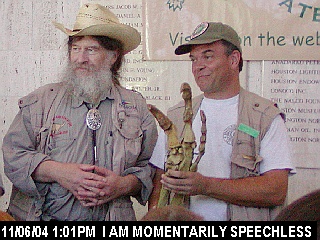 -----------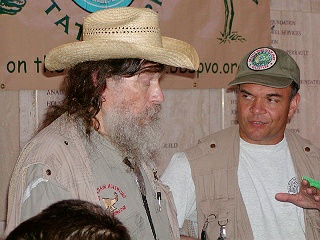 -----------------------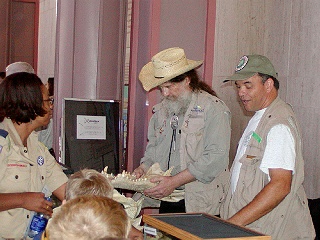 I'M SPEECHLESS! ALLIGATOR VOCALISING? EXAMINING THE REAR SINUSES
Dr. Robert Bakker is one of the most well-known paleontologists in the world. From youth, he has been captivated by dinosaurs and other ancient creatures, and he pursued this interest until he's become a noted authority. He's written 2 books that I've read; The Dinosaur Heresies, and Raptor Red. I read them some years ago, when they were published.
I admire anyone who has followed their interest and has become a scientist. I admire Dr. Bakker more because he pursued his interest in dinosaurs (which I still find interesting). These achievements deserve respect. What I find awe-inspiring is how he can share his interest and his knowledge with almost anyone. Having the knowledge is a gift (one he worked hard for). Wanting to share that knowledge is another gift. Being *able* to share that knowledge is yet another gift (not everyone who is knowledgable is a capable teacher). Sharing that knowledge in a way that will cause another's interest to brighten is perhaps the greatest gift. Dr. Bakker has all of these, and this is why I was glad to meet him, and shake his hand.

It is because of people like Dr. Bakker that I make the effort to keep these web pages. He has inspired me, and if I can inspire any of the visitors to my pages to look at the world around them differently; or to investigate it further, then I'll be happy with that.

The other two pictures are self-explanatory. If I look happy in the pictures, it's because I am. Thank you, Dr. Bakker, for coming by and saying hello. Thank you to Sandy and Chuck for helping it happen, and thanks to Rich for taking the pictures that are shown here.

November 20, 2004I was able to find and order a legally-imported skull from a Salt Water Crocodile. As the image below showws (TOP VIEW) the overall length of the skull is about 9 1/2 inches.


----------------------------------------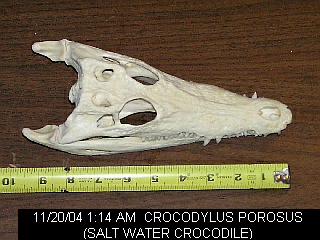 --------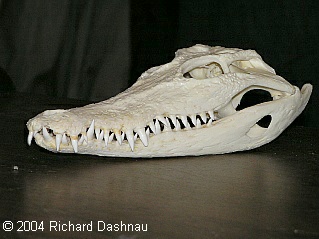 C. POROSUS TOP VIEW C. POROSUS OBLIQUE VIEW
The supplier avers that this skull came from a crocodile culled from one of 8 Australian crocodile farms, and the bill of sale states this. This skull, when measured from the tip of the snout to the base of the skull (I believe there should be a little bump there, the occipital, that's missing) would be about 8 1/2 inches long.
There are two mathematical formulas on page 47 of the book: King of the Crocodylians-The Paleobiology of Deinosuchus, by David R. Shwimmer. The first is TBL=-4.39 + 7.47THL. This indicates a relationship between the Total Head Length (THL)-measured as I indicate above-and the Total Body Length (TBL) for a Crocodylus Porosus. This formula was derived from a sample of specimens ranging from 2 to 16 feet long. According to the formula, the crocodile that my skull belonged to was about 5 feet long. This is probably relatively young (in our alligators at Brazos Bend State Park, a 5 foot alligator would be about 5 years old, and not yet mature.), and the skull would probably become heavier as the crocodile grew (just as older alligators have generally broader and heavier heads in proportion to their bodies). Still, the broad ridge (and no central hump) running down the top of the snout is clearly visible. On older animals, the edges of this evidently become seperate ridges. See (POROSUS/ACUTUS PROFILE VIEWS; POROSUS/ACUTUS PALATE VIEWS, and C. POROSUS OBLIQUE VIEW above).
These four identification links can be checked to verify this.; two pages on the CITES (CITES= Convention on International Trade in Endangered Species of Wild Fauna and Flora) crocodilian identification pages. This link is for the c. porosus , and this link is for the c. acutus . More identification features can be found on www.crocodilian.com; here for c. acutus; and here for c. porosus.
If you'd like to know more about the park follow these links:
Brazos Bend State Park The main page.
Brazos Bend State Park Volunteer's Page The volunteer's main page.

Here are a few links to more information on alligators. There's a LOT of it out there.
Fish and Wildlife Endangered Species
Here are my "alligator behavior" pages:
And, this page shows alligators at the park, on land, near various landmarks at the park.
Go back to my main alligator page, Alligators
Go back to my home page, Welcome to rickubis.com
Go back to the RICKUBISCAM page.
Go back to the See the World page.