ALLIGATOR BEHAVIOR page 2g: SOCIAL SIGNALS AND BELLOWING 7
This page was born 06/14/2013. Rickubis designed it. (such as it is.) Last update:
Images and contents on this page copyright © 2001 - 2013 Richard M. Dashnau

Alligators, although they are ectothermic and also equipped with a small brain, exhibit a surprising diversity in their responses to their environment and to each other. They are for more complex than mere animated logs or 12-foot-long eating machines. This group of pages show some of what I've been able to see in just two years (starting September of 2001) at Brazos Bend State Park.

05/17/2009-- Alligators seem to have been less active at the park during mating season this year. In other parts of Texas, alligator populations were reduced by the effects of Hurricane Ike and the resultant salt water intrusion. Brazos Bend State Park didn't suffer such intrusion. However, I was finally able to sit in on a chorus of bellows, and I was able to record some bellows with some high-framerate video.
In "Social Signals of Adult American Alligators", by Leslie Garrick, Jeffrey Lang, and Harold Herzog (Bulletin of the American Museum of Natural History NY, 1978; click this link to go to the digital AMNH library and see the pdf.) they break down an alligator's bellow into 4 parts.
While reviewing this footage, I've expanded this into six parts, since many different things are happening during the original 4 parts. This is usually repeated in a cycle of 4 or 5 bellows in a single bout. Sometimes, there is a single bout; but if other alligators answer, then there are often repeated
bouts. Here are the 6 parts as I divided them:
1) REST

2) INHALATION--the head and the body rises, air is taken in, and the head begins to tilt up, the gular pouch extends

3) INFLATION--the head continues to tilt up; air is gulped in and throat valve closes; the body begins to sink.

4) PRE-EXHALATION--the head tilts down and the body sinks.

5) EXHALATION--the head raises, tail arches, exhalation starts

6A) VOCALIZATION A--the gular pouch inflates, back vibrates and bellow begins

6B) VOCALIZATIONb--the body sinks as the bellow fades

Return to rest position (step 1)

I cannot capture sound while recording the slow-motion video. Without audio one can't pick the various sounds during the bellow. (the gulping sound can be pretty distinct) that might help identify what is going on internally. The appearance of the bellows is still fascinating. The images below are screen grabs from the video.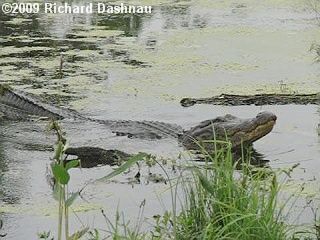 -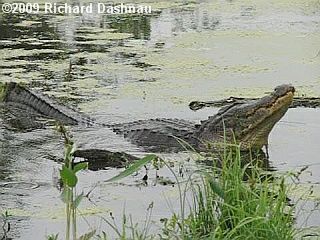 -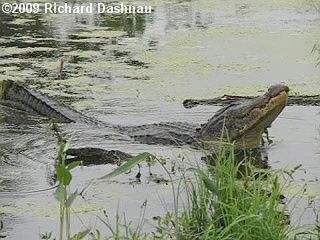 -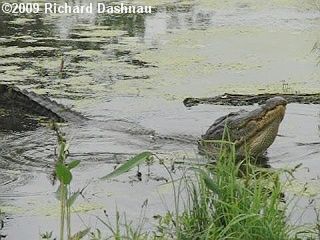 ---- --INHALATION INHALATION/INFLATION-- INFLATION -- E PRE-EXHALATION/EXHALATION
-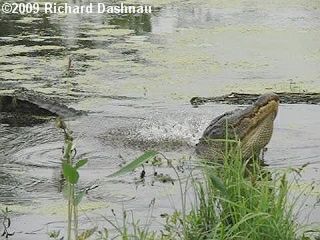 -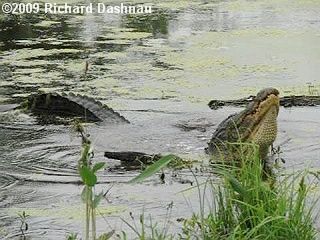 VOCALIZAION A---- -- VOCALIZATION B VOCALIZATION B.
I've edited the clips together into a single video clip. It can be seen here (wmv, 47mb). It's worth watching, to see how the bellow's energy travels through the water.
4/13/2008--It's been a while since I've seen a lot of alligator behavior in one day. Well, today was one of those days. First thing, I encountered the female alligator and her babies. This female has been in the same area since last August, and seems to have most of her babies. It's the same female that I saw on February 10th, but she's moved across the trail into 40-acre lake. So, at about 9:00 a.m., I saw her with her babies. The image below shows them together.
---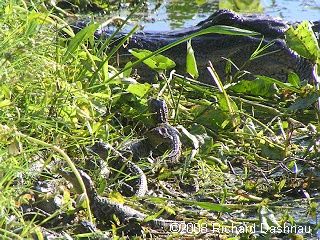 -------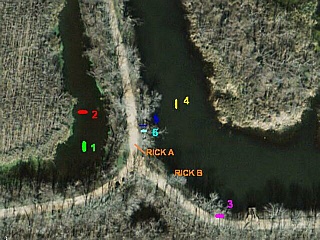 -
Map 1
I made my way to Elm Lake. The image above (Map 1) is a satellite view of the end of the Spillway Trail (from Google Maps). The colored numbers on the image refer to the alligators I'm going to talk about. Pilant lake is left, Elm Lake is right.
When I got to the water station, I saw an alligator down at the corner in Pilant Lake (1) and another swimming in Elm Lake (4). When I moved to the left (Rick A) I saw one alligator on the trail (5) and later found there was another right next to it (6). I got off my bicycle. I was talking to a park visitor when I moved past a tree, and suddenly saw another alligator in the water with head and tail raised (2). This alligator did a head slap. See map 2 below. Alligator 4 (yellow) just kept swimming north. Alligator 5 (light blue) raised its head. Alligator 1 (green) moved towards alligator 2 (red) and did some "snout bumping", which probably indicated that (green) alligator was a female. (green)Alligator then passed by (red) alligator and moved north.
- -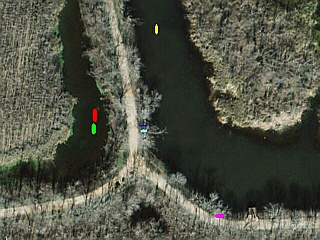 -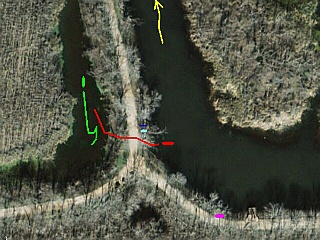 --
MAP 2 MAP 3
In map 3 above: (green) alligator moved north. (yellow) alligator moved out of sight. (Red) turned and crossed the trail without stopping. Sometime in all this, another alligator 3 (purple) came onto the bank. Below are images from the alligator crossing the trail. The first two images are from this video clip (wmv 6.1mb).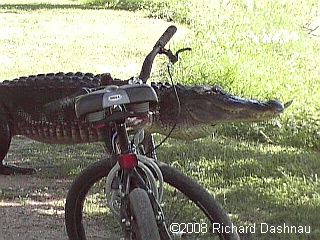 -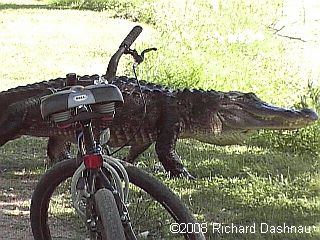 -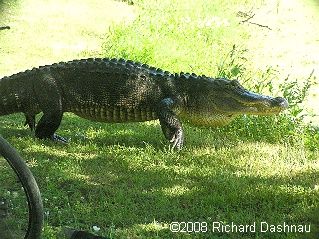 -
The other images are from photos I shot at the same time. That's my bike in the foreground.
After the large (red)alligator (it was about as long as the trail is wide at that point), it moved towards alligator 3 (purple) on the bank, and stationed itself about 15 feet out, facing the (purple) alligator. One of the park Kabodas came by towards the water station and (purple) alligator entered the water. Not long after, (red) alligator moved towards (purple) alligator and began bellowing. Meanwhile, I'd moved to "Rick B", and began filming and taking photos. See map 4 below.
-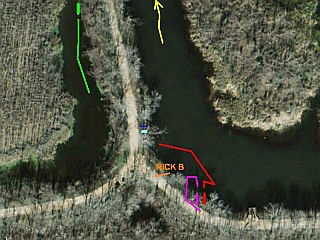 -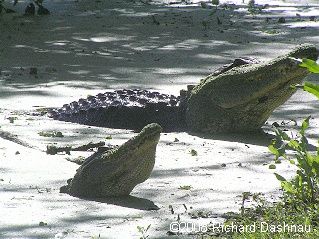 -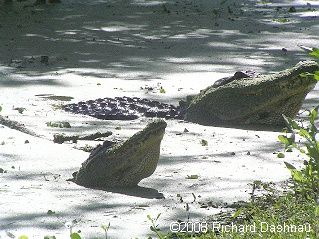 MAP 4
This short video clip (wmv 10.8mb) shows the entire bout of bellowing. While (red) gator started, (purple) gator joined in. I'm very excited about this, because you can hear the obvious difference between male and female bellowing. Some time after this, the female (purple) alligator moved back up on the bank. Somewhere North, alligators bellowed out of sight. (Red) male turned towards the sound, and moved quickly off to the North, towards it. I followed the male and found two alligators half on the bank. The (red) male appeared and began swimming toward the larger of the two alligators. Suddenly a female bellowed from behind me in Pilant Lake. (Red) male began trying to bellow and swimming at the same time ("trying" means that it paused and raised its head, but sunk and swam forward). It stopped at a branch and did a single growl. After some time, it moved slowly towards the two alligators on the bank. It finally got on the other side of the smaller one (which I assumed was female). (Red) male was half on the bank. Then, about 5 feet South was the smaller one (about 7 feet long), and about 5 feet further South was the other large one (presumably male). After a bit more time, the other male (not Red) slid off the bank, and slowly swam away.
Later, at about 1:00pm, I was back near the baby alligators. After a few attempts at counting, the best I could do was count "more than 17". The female stayed close to the babies, even occasionally sliding up near them, or even through clumps of them. The last images are of some of the babies on the mother alligator. Occasionally, one of the babies would seem to tug at something on the mother alligator--on her skin or something on the skin. I couldn't see what there was.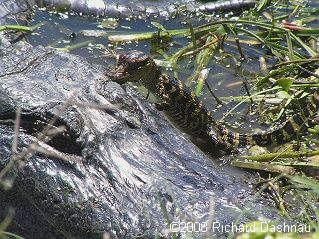 -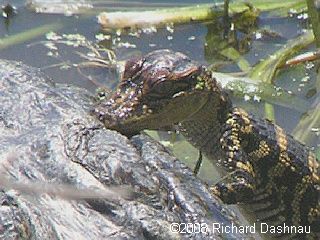 -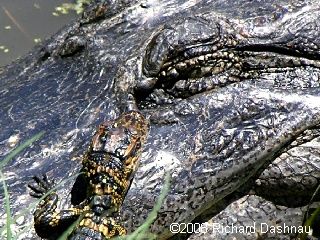 -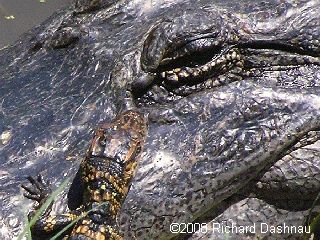 MOM! YOU AWAKE? YEAH, WHAT IS IT, KID?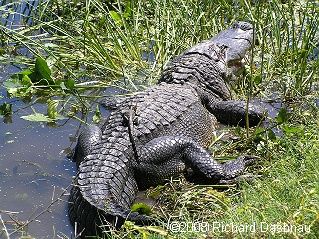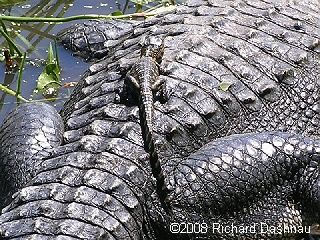 If you'd like to know more about the park follow these links:

Brazos Bend State Park The main page.

Brazos Bend State Park Volunteer's Page The volunteer's main page.

Here are a few links to more information on alligators. There's a LOT of it out there.

Fish and Wildlife Endangered Species

Here are my "alligator behavior" pages:

And, this page shows alligators at the park, on land, near various landmarks at the park.

Go back to my main alligator page, Alligators

Go back to my home page, Welcome to rickubis.com
Go back to the See the World page.