Rickubis off sci fi!
THIS PAGE STARTED 01/11/2001 Another UPDATE: 04/03/2005 Last Update: 03/31/2017

(I made this page in case scifi.com dumps my other one.)
They did dump my page! And everyone else's!
--------------------------------


Those....EEEDIOTS! (flv video 218kb) Or, Those....EEEdiots! (mpg 892 kb)
WARNING: SOME OF THE HUMOR AND LANGUAGE REFERED TO IN THIS AREA; WHILE SOMETIMES SOPHOMORIC; DOES RELATE TO ADULT SITUATIONS, COMMENTS, AND REFERENCES THAT MAY OFFEND SOME PEOPLE. THIS IS THE NATURE OF SOME FORMS OF HUMOR, AND NO OFFENSE IS INTENDED.
THIS HUMOR IS NOT INTENDED FOR YOUNGER PEOPLE, AND THOSE YOUNGER PEOPLE SHOULD HAVE THEIR INTERNET ACTIVITIES MONITORED BY THEIR PARENTS, ANYWAY. THAT IS THE PARENTS' RESPONSIBILITY, NOT MINE.
SO, ENTER AT YOUR OWN RISK.
--------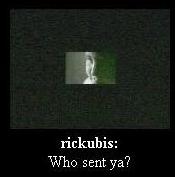 --------------

---------------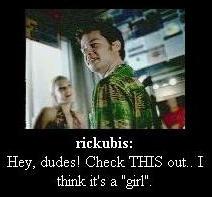 --- Well, this kinda looks like me. Click on the image for an 864 kb .mpg surprise!.
Click here to see a flv video movie featuring the virtual head above. (1,220kb)
Click here to see a different flv video clip featuring various virtual versions of my head. (2,308 kb)
Why is this page here? Well, just two words: CAPTION THIS! If you haven't already experienced it,, then I guess you never will, because sometime duringg year 2004 SCIFI.COM dumped it. I have a "gallery" screen captures from that, and other, pages here. This gallery is composed of captions that make me laugh every time I read them. From time to time I update the gallery.
For those who do take a look at my galleries: I realize that many of the captions are mine. Well, obviously I'm going to think some of my own captions are funny, and they do crack me up. I've only kept them for that reason. So there.
Some time has passed since I first made this page. One of the most important events that has happened since then is the creation of a new "live captioning" page. This page uses public-domain images and films for source material. It runs smoother and quicker (no POPUPS!). The name of this page? Inventing Situations. If you want to see it, click here. Much-deserved thanks and praise go to the capper known as Gersonk for making this happen. Especially NOW, since the original page has gone.
I believe that some time before IS was finalized, another capper, Glitterrock, made a HUGE domain wherein cappers can frolic for hours. My visits there have been fun, but I am overwhelmed by the amount of stuff there is to do in there. GlitterRock has put tons of work into this site, and it shows. If you'd like to visit, go to Glitter's Cap Page Board. It is people like GlitterRock and GersonK that have not only kept the spirit of capping alive, but have moved it into different directions and expanded upon it. Thanks!
There is another popular captioning site. It is called Hipsoda's Caption Crack. The basic premise is the same as for the previous captioning sites, but there are all kinds of other ways to play around on it. As I write this in 2017, it has been around for years.
It is currently the end of March, 2017. It had been years since I'd done anything to this page, but I'm dusting it off a bit because I'm going to link it to another caption-related page. And....this is why.
The thing that inspired Caption This, and everything else--Mystery Science Theater 3000--has been revived!!! It is 2017, and at least one season has already been filmed. They also have a website, and I am there. So....I've linked to here.
My life has changed a bit since I first made this page ("life" does that from time to time. If we are fortunate, then there are good changes.). The first major change was starting work at the park and being able to study alligators (and lots of other animals) in the wild at first hand (September of 2003 will be TWO YEARS!). The second, of course, was nice, but only lasted a little under 3 years. My "free time" options have changed once again. Well, at least I'm not in a rut.
In any case, my capping activities have waned dramatically. Well, not too dramatically. There was no screaming, or explosions, or anything like that. But you get the idea. Therefore, I haven't kept up with updating caption galleries and so forth. I *do* still get to caption at least few times a week, though. It's still fun. I suppose this is an explanation why the pages in this area of my domain don't change much. And that's all I'm saying about that.---rickubis 09/20/2004.
That is even more evident now, in 2017. I have other things to occupy me, but it's still fun to relax and caption now and then.
What is it about "CAPTION THIS!"?
I can't remember how , and when exactly I ended up on "caption this", but I do know that I first registered on the Dominion on 04/16/1999 . Back then, "Caption This!" loaded quickly, as long as there was a good web connection. Quite a bit different than it is now! (Actually, I've been able to find my dominion registration verification email, and the date I mention is when I received and replied to it.) There is a psychological test, known as the TAT, or "thematic apperception test", wherein a test subject is shown a series of single images. When the test subject is shown an image, they (the test subject); are requested to tell a story about what is in the image . These images are taken from various sources; paintings, photos, whatever. The story the test subject gives is then analysed to give the subject's psychological profile.Actually, it seems to be a lot like "caption this", although we cappers are required to abbreviate *our* interpretations to a few sentences.I think I have found my people!! I believe that if all of the cappers took the TAT at one location, then we'd all end up locked in a padded room somewhere. Of course, as long as we could play "caption this!", and could send out for pizza, we'd probably be ok. I'd also like to say how much I enjoy the time we have together. Thanks, y'all, for making me laugh! There have been some bad days where coming in and swapping caps has made all the difference...well, that and my goofy dog. So, thanks to Cambria36, Agent_Moldy, Porpoise, GersonK, Big_Stupid, Animebabe, Nurse_Noir, 144b, Mr._Grant, AmyCamus, TurkeyVolGuessingMan, Nel_b, Xigeous, medusaD, yinyang, teambanzai, mystic_cobra, generik, Dark Oracle, Glitterock, JAUSTRALIS, Hippie_Chick, and all of you others that I've mangled various TV shows and commercials with . And that's about all the nice stuff you're going to get out of me.
------------------------------
The image above almost killed me. This is what I'm going to call this spot my "special cap of the moment".
capping is about! I laugh every time I see this one. From time to time, I'll put a cap here that I thought was
Thanks, kwagner. Thanks also to teambanzai for paricularly funny. Previous "caps of the moment" can be
letting me snag this from his gallery. found by clicking on this link.
Cue dramatic music. HEY! I said, CUE THE DRAMATIC MUSIC! Ahh, the hell with it!
Sometimes, there are occasions whre our beloved "Caption This!" media entertainment event is not functioning properly. We recently had such an occasion, where not only did the screengrabber not function, but we could not enter captions, either. You'd be amazeed at how a blank screen can stimulate the creative forces, seething in our mighty imaginations. Forces barely controlled by those of us who answer the call to the daunting job that is "capping", or " captioning". "Now, you can see some examples of the fine art of putting captions to: FROZEN SCREENGRABBERS! Click here.
THE HORROR, THE HORROR! NO CAPTIONING! Well, in the event of the recurrance of such an event, or even just for general entertainment, I'm posting 4 links to some small films that I've made. Clicking one of the links under the images directly below will take you to the appropriate film. These are available in both flv video and mpeg format, so why don't you take a look?
------

--------

-----

------


ram 2.3mbmpg 7.2mb ram 1.2 mb mpg 3.6mb ram 1.3mb mpg 4.1mb ram 3.2
NOSFERICKUBIS--THE FULL MOVIE!! originally posted 11/23/2007---THIS IS IT! It's the entire movie--all the sections edited together into one film. It's about 60 minutes long, and it's done with a public-domain version of Nosferatu (downloaded from Archive.org). It has nothing serious about it. All dialogue has been formatted throughout with different fonts and colors representing various parts. That's the innovative RICKUBILOGUE technique. It's a sort-of silent riff of a silent movie. Click the link in my domain (538.0mb, wmv). Or, see it where I got the original video on Archive.org here.
As this is rickubis.com, and therefore, sometimes, a domain dealing with speculation, and speculative science, I suppose that people who visit this domain are interested in those subjects. Therefore, I've decided to share what I've learned about a growing cultural theme. I am talking about aliens, and the possible alien invasion of our planet. I accidently uncovered the story behind all the fiction and guesswork. I have a page in my domain dedicated to this. Click on this link to learn The Truth About the Aliens. There is no return link. After all, many who have sought after the truth have not returned. Why should you? Also, I didn't want people who actually searched the internet for "The truth behind the aliens", and who found my page, to be able to easily come back to me. There are some real bozos out there. And if you're really gonna cry about it, just hit the "back" button. Recent events have bought to light more truth about the aliens. So, click on this link to see more about the astoundingtruth about the aliens part 2--the artifacts. There is no return link from this one, either. If you get lost, don't come crying to me. Well, actually, I guess you couldn't, because you'd be lost.
When I was 5 years away from being half a century old; I believed that gave me a certain right to be picky about this or that. So I decided to give a little lesson on English usage. Click here for the lesson.
Here I am! Click here and you will be able to see the infamous, somewhat live, RICKUBISCAM. Just hit the "back button" to come back here.
-------------------------------------------------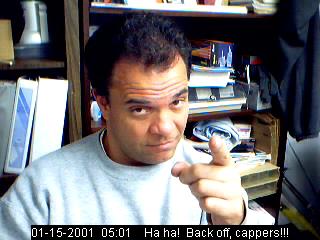 -
THAT'S RIGHT! NO CAPPING ON RICKUBIS!
----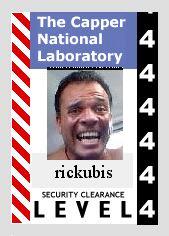 ----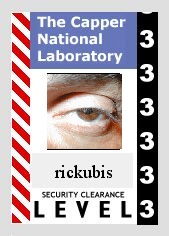 ----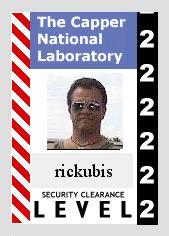 With quiet pride, I show my badges from the Capper National Laboratory.
That's all I've got to say here, except for this: Cap ON!!!! As far as I know I started this some time ago (as opposed to someone else having started saying it). Click on this(.wav 327kb) or this(.mp3 45kb) to hear what I think it should sound like.
That's all for now. Click here to go back to my home page.